If you love taking photos and videos as much as I do, you know that there is nothing better than Adobe's Creative Cloud Suite when it comes to editing together raw material into something visually appealing. And if, like me, you also struggle to afford Adobe software, you must check out Adobe's Black Friday Sale that knocks 50% off the asking price of a year-long Adobe Creative Cloud All Apps subscription.
Shop the Adobe Black Friday sale (UK)
Shop the Adobe Black Friday sale (US)
That's right: for under £30/$30, you get to enjoy everything Adobe has to offer, including the photo-manipulating prowess of Photoshop, the video editing masterclass that is Premier Pro, and even the generative AI tools powered by Adobe Firefly. This latter app is the one that creates those viral videos online, making holiday photos look like you've been to space.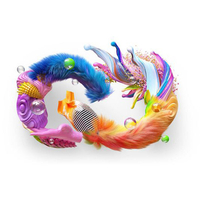 Adobe Creative Cloud – All Apps Plan: save 50% now at Adobe
The All Apps plan includes over 20 apps and generative AI tools. The offer is only available for a few days and will end on 24 November 2023 – don't miss out!
What's the catch? Well, for one, the offer is available to first-time eligible subscribers of Adobe Creative Cloud (All Apps for Individuals). However, this can be circumvented by signing up with a new email address (you will lose your libraries etc., though). Another caveat is that a 12-month commitment is required, so you must pay for the full 12 months at the time of purchase. You can cancel through your Adobe Account or Customer Support.