It's Amazon Prime Day sure, but that doesn't mean that all the best deals are to be found on Amazon. The site is currently not offering any kind of discount on one of the best PS5 accessories, the DualSense Edge controller. But that's not the case everywhere.

Leading gaming retailer TheGameCollection is offering the DualSense Edge for £189.95, that's almost a £20 saving compared to Amazon's £209 price which hasn't budged all week. At this price, it's cheaper than it has ever been before both at Amazon or any third-party retailers.

Yes, it's a lot more than the standard DualSense controller but as our DualSense Edge review points out, it is a "superb pro-level controller".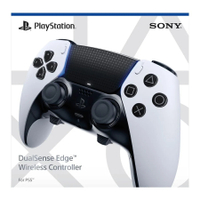 DualSense Edge PS5 Controller: £189.95 at The Game Collection
The ultimate PS5 controller, the DualSense Edge is a joy to use with heavily customisable controls and the option to have three custom profiles saved to switch between. It also comes with a carry case, making it easy to take around a friend's house when you want to teach them a gaming lesson.

What sets the DualSense Edge apart? Apart from the achingly cool design, there are a lot of functionality upgrades. For starters two new optional rear buttons and two additional front buttons (not removable, below the joysticks) are mappable however you wish, helping you to feel in control in any game.

Stick drift is something that has been plaguing gamers in recent years (particularly Switch fans) but with the DualSense Edge's modular sticks that's no longer a problem. If you feel the sticks start to go awol, simply replace them with the reasonably priced replacement modules (£20 on Amazon- it's good for some things) and you're ready to go.

The adaptive triggers and haptic feedback are two of the PS5's most unique features and the DualSense edge improves both of these. The triggers now feature a slider ( one for left and one for right) to change their resistance independently while haptic feedback can now be adjusted for specific games and specific actions.