If you've been camping you'll know one of the worst bits about it is pumping up the bed. No-one enjoys thrusting their leg up and down for 10 minutes straight – it's tiring, boring, plus you regularly have to swap legs, sometimes even get down on your knees and use your hands, because it's like a mini workout. That's why every camper, who prefers an air mattress over a camp bed or sleep mat, needs one of these – a rechargeable battery-powered pump, which has 15% off in the early Amazon Prime Day sale.
• Go straight to Amazon's best deals today
Me and my family have regularly camped on St Martins in the Isles of Scilly since I was two-years-olds and I can't even begin to tell you how many heated arguments have occurred when it came to blowing up the air beds. But, as soon as we got one of these little bad boys, the chaos turned to calm and all of a sudden everyone volunteered as tribute to take on the task of blowing up the beds. As well as deflating them, as it can also be used for that too, albeit that's the way more fun task.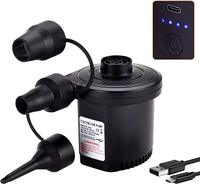 Kazaigou Rechargeable Battery Air Pump: now £16.14 at Amazon (was £18.99)
Save 15% off on this rechargeable electric pump. It comes with three different nozzle heads, a USB charging port and is ideal for saving time blowing and deflating your air mattresses when camping. Also a great addition for family households as it can be used to blow up pools and inflatable outdoor equipment, like paddleboards and kayaks.
The great thing about this pump is that not only is it battery powered, so you can actually take it with you on remote camping trips, it's rechargeable too, so you can use it again and again. It comes with a USB charging lead and a full charge gives you 35 to 40 minutes of air time, which is more than enough time to blow up several beds.
• Check out the best early Amazon Prime Day deals
You may be someone who doesn't even use an air mattress, maybe you use a self-inflating camping mat instead. I get it, these are way more compact, lighter and don't require the hassle of a pump. But if the latter point is your main issue and you do want to add a little extra luxury to your camping trip, then this device solves your problems (an air bed is so much more comfier in my opinion).
I can safely say, this pump has made camping trips so much more of a delight. After all, no holiday should begin with arguments, especially over something so mundane as blowing up an air bed. I dread the day I forget it and it's back to the old push-pump but, until then, camping has never been better.