Happy birthday to us because T3 magazine is 25 years' old, and how things have changed in those 25 years.
25 years ago, there was no iPhone and no such thing as Google, but there was T3 magazine, which we created to help people make sense of the rapidly advancing world of consumer technology. Throughout those 25 years, T3 has evolved as tech itself has evolved, but our mission has remained the same: to provide you with reliable information so they you can make smarter buying choices and buy stuff that enriches your life. We're proud that T3 magazine is now 25 years' old and this special issue is packed with fun features celebrating the past, present and future of tech.
First off the bat, we have a celebration of the 25 most innovative gadgets available right now – from portable projectors to game-changing PC handhelds, this is the most cutting-edge kit you can buy.
But there's a lot more on offer in the latest issue! Discover why the iPhone 13 and Watch 7 are Apple's best yet, check out the tech you'll be buying in 25 years, enjoy the ultimate earbuds, get your gadget geek on with our retro gizmo bingo and much, much more!
You can read a sample of the magazine right in your browser just below!
What's inside the latest T3?
In the 25th anniversary issue of T3, you'll find:
The 25 most innovative gadgets – from portable projectors to game-changing PC handhelds, this is the most cutting-edge kit you can buy
iPhone 13, Watch 7 & iPad Mini – the wait is over! We give you our initial verdict
T3 2046 – which tech trends will T3 be covering on its 50th anniversary?
Samsung Galaxy Z Fold 3 rated – finally, a foldable flagship that deserves to become a mainstream hit
High-end true wireless buds – want the best on-the-go audio money can buy?
Retro gizmo bingo – which of these iconic gadgets from the last 25 years did you own?
Dell XPS 15 9510 tested – with its OLED screen and insane specs, this is a truly pro-level laptop
What if... – the Zune had killed the iPod? Sega still made games consoles? Google Glass hadn't flopped?
Even better, you can currently get three issues of T3 for just £3 in our Autumn sale – that means you're saving a whopping 80% an issue! So make sure you head over to our store and get yours now!
Take a look inside
Like what you see? Then either pick up 3 issues for just £3 – and save almost 80% off the cover price into the bargain – or read the latest issue on iPad, Android devices or online at Readly!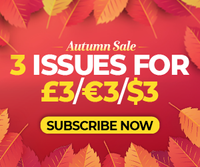 Get 3 issues of T3 for just £3 today!
Can't get to the shops but don't want to miss out on the latest issue of the UK's best-selling gadget magazine? Then make T3 come to you: get 3 issues for just £3 in our Autumn sale when you buy by 17th October at 10am (GMT).