Building muscle in your upper body requires consistent effort and time. But what it doesn't require is lots of equipment and complicated exercises. Take this 30 minute workout for example, it uses just a pair of dumbbells, minimal space, but works your arms, back and shoulders and, in time, will build muscle to give you that defined physique you're after.
Dumbbells are one of the best pieces of home gym equipment you can invest in for developing strength and size. One of their main benefits is that they reduce the likelihood of muscle imbalances, which can sometimes occur when using an Olympic barbell or gym machines. According to Mirafit: "Because you're using your arms independently, there's no risk of your stronger side carrying the weaker side. The longer that imbalances are left without being addressed, the more likely you'll create asymmetries which can put you at risk of injury." Plus, no-one want one side looking bigger than the other!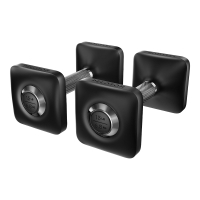 Peloton Dumbbells: were $55, now $38.50 at Amazon
Peloton's dumbbells feature a premium urethane finish, non-slip handles and ergonomic design. The dumbbells come in pairs and are available in sizes 5 to 30lb. Most are on offer for 30% off as part of Amazon's Black Friday sale – don't miss out!
This workout is made up of six different isolation exercises (exercises that target a single muscle group, rather than work multiple ones). The reps for your exercises are quite high (between eight and 12), so you'll want to opt for a medium pair of dumbbells, that make your final two reps a struggle. Give yourself 60 to 120 seconds rest between each exercise. Once you've completed one round of the workout, rest for two minutes before repeating it two more times. Here's your exercises:
Kneeling alternating shoulder press - 12 reps
Dumbbell pull apart - 10 reps
Kneeling single arm front raises - 12 reps
Lateral raises - 12 reps
Power snatches - 8 reps each arm
Floor-based skull-crushers - 12 reps
If you enjoyed this workout we have plenty more! For more upper-body specific workouts, try this dumbbell floor-based workout, which also consists of supersets (for when you're really pushed for time). If you're after something that's not too long, but equally not too short, this 20 minute dumbbell workout is perfect for hitting your arms, chest and shoulders. Remember, if you don't own a dumbbell you can always use a single kettlebell too and complete the exercises separately on each side, or get creative and make your own with two big water bottles.