Bose has had a bumper 12 months: after the success of its QuietComfort Earbuds 2, which are on a limited-time sale as part of the best Black Friday deals right now, the company launched its next step-up Ultra Earbuds and Ultra Headphones. But if you want the 'ultra' deal then, let me tell you, it's the QC Earbuds 2 that make most sense right now.
That's because these T3-award-winning 5-star earbuds have suddenly dropped to their lowest-ever price on Amazon – and by a significant margin, with almost a third off the list price – being available for $199 a pair, whether you want the Eclipse Grey, Soapstone or Triple Black finish.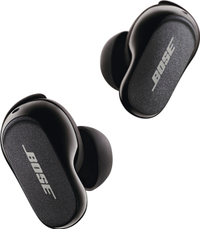 Bose QC Earbuds 2: was $279, now $199 at Amazon / Best Buy
Bose was quick to release a successor to the 2022-launched QC Earbuds 2, which is most likely why they're on sale right now. It's a great Black Friday offer though: while you don't get the spatial audio effect available in the newer Ultra Earbuds model, you do still get exceptional sound and, importantly, active noise-cancelling (ANC) that's truly among the best you'll experience from any in-ear earbuds available today.
This deal isn't just a couple of dollars down from its previous best either: I've checked the third-party price-monitoring site, CamelCamelCamel, and that confirms the QC Earbuds 2 have typically been selling for around $249 in previous best sales. This is an additional $50 down from that margin.
When it comes to the best active noise-cancelling earbuds I've tried out all of Bose's recent launches – and while I personally prefer over-ears (the QC Ultra Headphones took me through 18-hours of flying and were exceptional), the QC Earbuds 2's capability to block out ambient noise is truly second to none.
Are there any downsides of note? Other than 'ordinary battery life', as noted in T3's QC Earbuds 2 review, that and heaps of competition is about all we can levy against these Bose 'buds. And now that the price has been chopped, I'd suggest these could be the best Black Friday buy you could make. Especially if you're looking for in-ears with "robust, informative and well-organised sound".