The deadline for last minute Christmas gift buying is approaching fast, yet there's still time to find something to toss into the stockings for friends and family. Best Buy is offering some great bundle deals on Apple Watch 8 plus Beats Fit Pro earbuds that anyone would love to get on Christmas day – and better yet they're on sale.
The special packages at Best Buy, which include the latest Apple Watch 8 bundled with a pair of Beats Fit Pro earbuds, may be on the higher end of the price spectrum but just what is a price tag when you shopping for someone you love? Both of these premium smart tech pieces are great presents on their own, but bundled together offer a perfect package for fitness lovers, music lovers, and much more.
Check out the Apple Watch 8 plus Beats Fit Pro deals at Best Buy
The Apple Watch 8 GPS model alone starts at $399, while the Beats Fit Pro earbuds start at $199 (now on sale for $159.99), so all-in-all there's some good savings to be had with the bundles.
The 45mm Apple Watch Series 8 Beats Fit Pro bundle goes for $548.99 (regularly $630) while the 41mm Apple Watch Series 8 Beats Fit Pro bundle goes for $518.99 (regularly $600). That's a solid $80 off the two items on their own, so these packages are well worth it even if you aren't buying for someone else.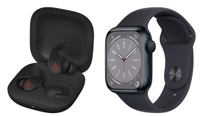 Apple Watch Series 8 41mm GPS + Beats Fit Pro Bundle
was $598.99, now $518.99
Grab the latest Apple Watch paired with a stellar set of true wireless earbuds at a solid $80 off at Best Buy. Whether as a gift for someone else or yourself, this combo is perfect for the smart tech lovers in your life.
Is the Apple Watch Series 8 Beats Fit Pro bundle worth it?
From a price point, the package does clock it at a higher $500 range but the value here is in the savings. At $80 off, both products clock in less in the bundle than they do standalone.
It's hard to argue however for a $500 Christmas gift, and many out there may just not have the budget for it. If you do however, this is one of the best smartwatches paired with some of the best true wireless earbuds available.
If you've got the dough, it's definitely worth the buy.