The Black Friday sales are still alive and kicking, despite the day itself having passed by. Now, they're getting ready to shapeshift and morph into Cyber Monday deals, as the famous buying weekend progresses.
Still, there are deals to be found – and I've got a corker for you right now. If you fancy a whopping 75-inch TV which is also a top gaming TV, this Hisense E7K Pro model is perfect for you.
Right now, it's just £921.28 at Amazon – saving you over £550!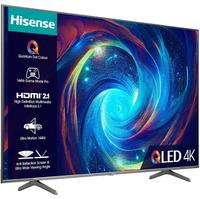 Hisense QLED Gaming TV: was £1,499, now £921.28 at Amazon
Save over £550 on this 75-inch QLED TV. This Hisense model offers a host of extra credentials for gamers, too, making it perfect for putting your favourite titles on the big screen.
That's a whole lot of TV for the money. Not only are you getting a gargantuan 75-inch panel, you're getting one with QLED technology and a 4k resolution built-in.
That should ensure bright, vivid colours and crisp contrast. You'll be able to put your favourite movies and TV shows from the best streaming services on the truly big screen, and enjoy sumptuous detail and clarity.
This model also doubles up as an effective gaming TV. You'll get a 144Hz refresh rate, with GameMode Pro and UltraMotion to ensure smooth motion. That sounds perfect for graphically demanding titles, where it's crucial to stay up to date with the action.
You'll find four HDMI ports on the side, with a duo of HDMI 2.1 options and a pair of HDMI 2.0 options. That's joined by a pair of USB-A ports, two antenna ports and a whole lot more to boot.
Users will even find Dolby Atmos and Dolby Vision certified credentials here. Plus, with a built-in subwoofer as part of a 2.1 sound system, you'll have access to top notch audio without needing any external devices.