At some point, most people will have to pick a side between Amazon and Google. Both are giants in the smart home space, whether in terms of the best smart speakers, or the best video doorbells. You won't find better, but for the best experience possible, you will need to choose between them.
Home security starts right at the front door, which is why video doorbells have taken off in such a big way in recent years. Amazon's Ring devices and Google's Nest tech are undoubtedly two of the top players in that realm, but which is right for you? And what are your options?
You've come to the right place to find out, I'll take you through everything you need to know before deciding whether to invest in a Ring or Nest video doorbell.
Ring vs Nest: price and models
First things first, let's talk about which models each manufacturer has on offer.
Ring has many options depending on what you're looking for and your budget. At the most affordable end, there's the Ring Video Doorbell Wired (£59.99 / $60) which you will need to install using a cable. If you're willing to splash the cash on the most advanced video doorbell on offer, the Video Doorbell Elite will set you back £349.99 in the UK and $350 in the US - this too will require being wired up.
In between these two devices, you'll find plenty of other options like the Door View Cam (£120/ $130), the battery-powered Video Doorbell 2nd Gen (£100/ $100), the Video Doorbell Pro 2 (£250) or the latest Video Doorbell Plus (£160/ $180).
Google has taken a more stripped-back approach, offering one battery-powered option, the Nest Doorbell (battery) that costs about £180 / $180 and one wired option, the Nest Doorbell (wired) that costs £230 / $230.
If you plan to expand your smart home, then it'll be worth taking a look at what other smart security tech Ring and Nest have on offer, like the best security cameras. Ring is all about variety whereas Google has a smaller, more focused portfolio.
Ring vs Nest: subscription
Both Ring and Google will require a monthly or yearly subscription to make use of their full set of features, and the cost of that will be something to consider.
Ring Protect Basic costs £3.49 / $3.99 a month per security camera, giving you up to 180 days of video storage, person alerts, custom motion zones and 50 video downloads at once. If you plan to have more devices, you can buy Ring Protect Plus for £8 / $10 per month for all your cameras.
Nest Aware costs £6 / $8 per month for all your cameras and gives you 30 days of video history as well as person, animal and activity detection, customisable activity zones and super smart features to detect familiar faces or smoke. Up the subscription to Nest Aware Plus, which costs £12 / $12 a month, and you'll get 60 days of event video history and 10 days of 24/7 recording with the Nest Doorbell (wired).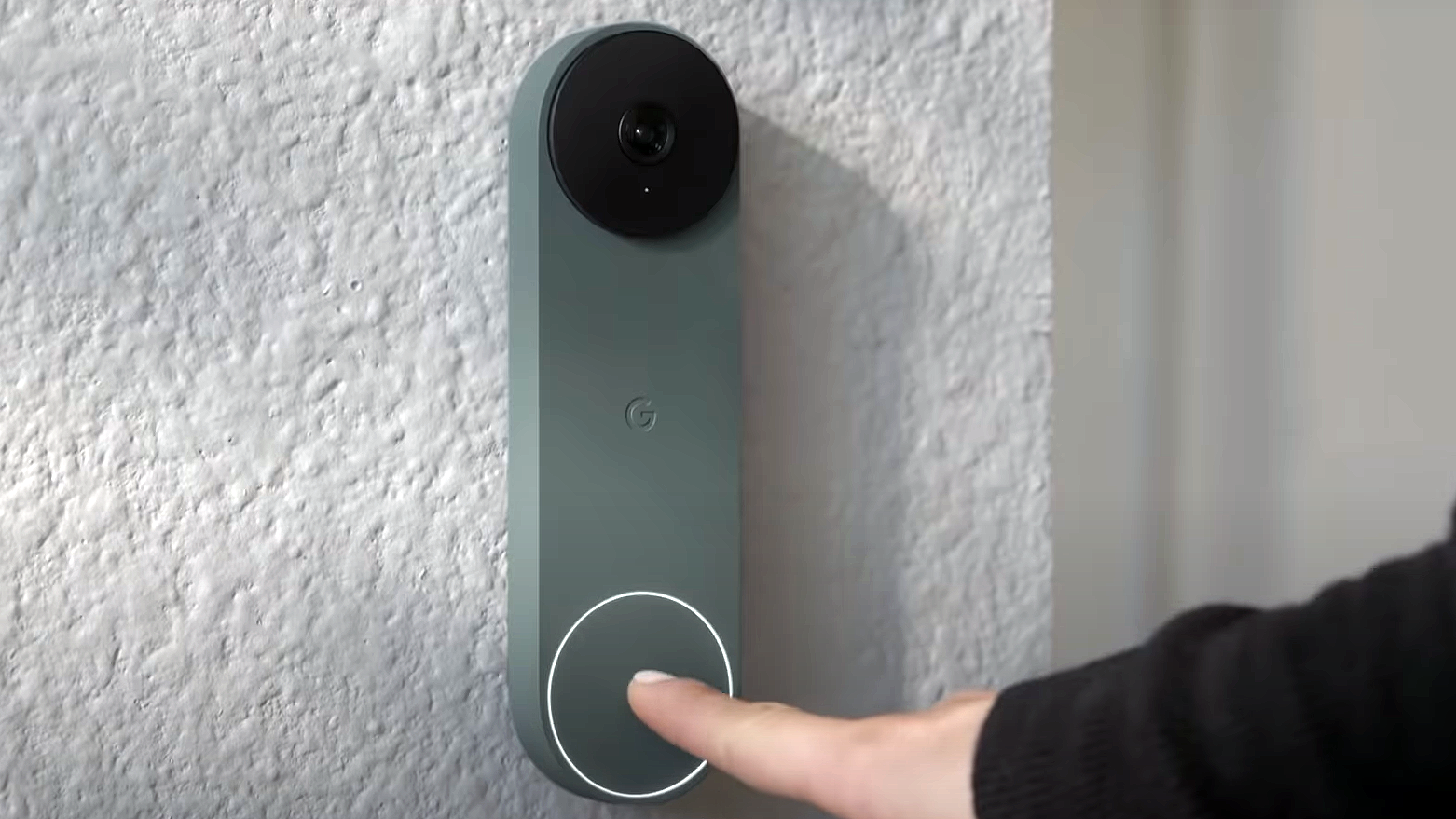 Ring vs Nest: features and design
Before you pick a video doorbell, you'll need to decide whether you want a wireless rechargeable device or whether you'd like a wired doorbell. Immediately that will narrow down your search across both Ring and Nest.
A battery-powered doorbell will be easier to install but you will need to take it down every now and then to recharge it, whereas a wired doorbell will need to be installed using a cable to your front door but once it's ready to go you won't need to anything else.
Then, you'll need to think about what level of security you'll need, do you have a lot of people coming up to your door each day? If you do you might like Google's 24/7 recording on the Nest Video Doorbell (Wired) meaning that no matter what happens you'll have the footage and you aren't relying entirely on motion detection.
If you don't get many visitors then simple motion triggering will be just fine which in some cases will start the recording a few seconds before the movement as well, Ring's Video Doorbell 2nd Gen offers this.
If you rarely have anyone other than the postman come to visit then you'll get everything you could need from something cheap like the Ring Video Doorbell Wired that records clips from the moment motion is detected.
The quality of the footage you get will depend on the model you choose, but both Ring and Nest offer impressive video HD video recordings as well as night vision. Two-way talk is another feature they have in common allowing you to have a conversation with a person outside through the app on your smartphone. Both deliver reliable motion detection as well, which can differentiate between people, vehicles and animals, although Google takes things a step further detecting known faces and letting you know who is at the door. Both Ring and Nest devices have package detection, so you know when someone has come to deliver a parcel.
Every Ring and Nest device can be controlled through a smartphone app, both are available for iOS and Android. Aesthetically, the Ring and Nest doorbells are up there among the best-looking video doorbells around. Ring's are smart and functional whereas Google's are sleek and modern. Which you prefer the look of will come down to your own personal taste.
Ring vs Nest: smart home compatibility
It'll come as no surprise that both Ring and Nest video doorbells will slot seamlessly into your smart home setup. You'll be able to use all of them with your Amazon Alexa kit, as well as with your Google Home devices.
Of course, the Ring doorbells will work best with Amazon Alexa speakers and smart displays, allowing you to create routines to trigger other smart home tech when motion is detected, like a light. You can also stream live from the front door to your Echo Show and use your Alexa speakers to announce when someone is at the door.
Naturally, the Nest doorbells will work best with Google Home speakers and displays, streaming live from the doorbell when someone is there, even announcing who it is with the familiar faces feature.
You can use Google's doorbell with your Amazon Echo smart display to see who is at the front door. It is worth noting that you won't be able to stream from the Ring video doorbells to your Google Nest Hub, so if you own one of those, stick to the Nest Doorbells.
Unlucky for Apple users, neither Ring nor Nest devices are compatible with Apple HomeKit.
Ring vs Nest: verdict
Ultimately the deciding factors between buying a Ring and Nest video doorbell will be your budget and your current setup.
If you already use Amazon Echo smart speakers and displays, you'll be better off choosing a Ring doorbell, especially if you already own other Ring devices. Having said that, if you use Echo but you want Google's 24/7 recording then its wired option will still work with your Alexa kit.
Within Ring's portfolio, if you don't mind wiring the doorbell, you're on a budget and you don't expect too much footfall then the Ring Video Doorbell Wired will satisfy all your needs. Or if you don't mind spending slightly more for a better array of features, and you'd like it to be battery-powered, then the best option is the Ring Video Doorbell 2nd Gen.
If you're already a Google fan then the decision is a lot easier, Nest is a no-brainer. It will simply come down to whether you're on the hunt for something wired or wireless. The Nest Video Doorbell (battery) is the cheapest option although it doesn't have 24/7 recording, just motion-triggered footage. The Nest Video Doorbell (wired) on the other hand has everything you could need but it does require cable installation and it does cost a little more.