Battery-powered and convenient, the best portable blenders shouldn't be confused with mains-powered, single-serve personal blenders which are smaller and more efficient at blending a wider variety of ingredients.
Portable blenders require no mains power to operate so they can be used anywhere. They're cheap to buy and you can charge them using any USB-based power pack, computer, car charger or mains plug.
Portable blenders are perfectly capable of whipping up smoothies on the go, aassuming you're able to take the ingredients with you, and the better ones are pretty good at pulverising ice and mixing cocktails. They're best suited for home or office use, campsites and picnics, or whipping up simple stuff like protein shakes after a workout at the gym. Their most useful role is probably puréeing baby food on the fly. Sure, they are not anyone's idea of the Best blender overall but portable, cordless blenders gain in convenience what they lack in sheer power or size.
If you're sold on the idea of joining the ever growing throng of healthniks and grabbing yourself a portable blender, then this is the guide for you. We've scoured the web, read a shedload of user reviews and carefully curated this mini bonanza of the best portable blenders currently on the market. If you are still hungry for more blendin', check out our Best Nutribullet list or our upmarket guide to the best KItchenAid mixers.
The best portable blenders you can buy
Why you can trust T3 Our expert reviewers spend hours testing and comparing products and services so you can choose the best for you. Find out more about how we test.
This attractive, USB-chargeable model is equipped with a 75-watt motor and a six-pointed blade that spins at a record-breaking 16,000rpm. According to its platoon of admirers, the oddly-named CkeyiN crushes ice really easily and mashes harder ingredients like apples and carrots in a thrice.
Comprised of a portable 420ml borosilicate glass container (with screw-top lid) and a baby-blue motor housing replete with LED display, this mini blender features a safety sensor that prevents the unit from operating if the container isn't mounted on the housing correctly. This is a very good thing because the whole unit needs to be inverted when blending and the last thing you need before rushing out is half a litre of milky strawberry mush all over your trousers or skirt.
According to the manufacturer, a five-hour charge is good for about 15 blends and it even comes with a USB port to charge your mobile device. It also comes with a 12-month warranty which is outstanding for such a cheap product.
The Smoovii has received a raft of glowing reviews and is said to be a bit more powerful than most other models. Users rave about its compact size, the glass container and its speed and efficiency at producing healthy drinks with little fuss.
The Smoovii is equipped with a six-bladed chopper that spins at an impressive 16,800rpm (that's revs per minute for the uninitiated) and a 4,000mAh rechargeable-via-USB battery that is supposedly good for between 18 and 22 beverages on a single charge. There are no stats on the power of the motor but very few users have complained about its efficiency, even with tougher ingredients like carrots and ice.
It's easy to clean, too. Simply fill it with water and a drop of washing up liquid, switch it on for about 30 seconds and rinse under the tap or the flow of a clean stream. Portable blenders can be a bit hit and miss but this one appears to be more competent than most.
At 19cm in height and 8.6cm wide, the mysteriously monikered 300ml Godmorn is stumpier than the other models reviewed here but easier to store in a shoulder bag. Its smaller capacity 1,200mAh battery is relatively quick to charge via any USB source (about three hours for 10 to 15 minutes of blending) and, despite the fact it only has two blades where most other portable blenders have six, users report it tackles most ingredients with consummate ease.
It does, however, work better with frozen fruit than it does with large lumps of ice. If you're after a portable fruit and veg masher that's competitively priced and very well designed for smoothies on hoof, then place this one on the consideration list.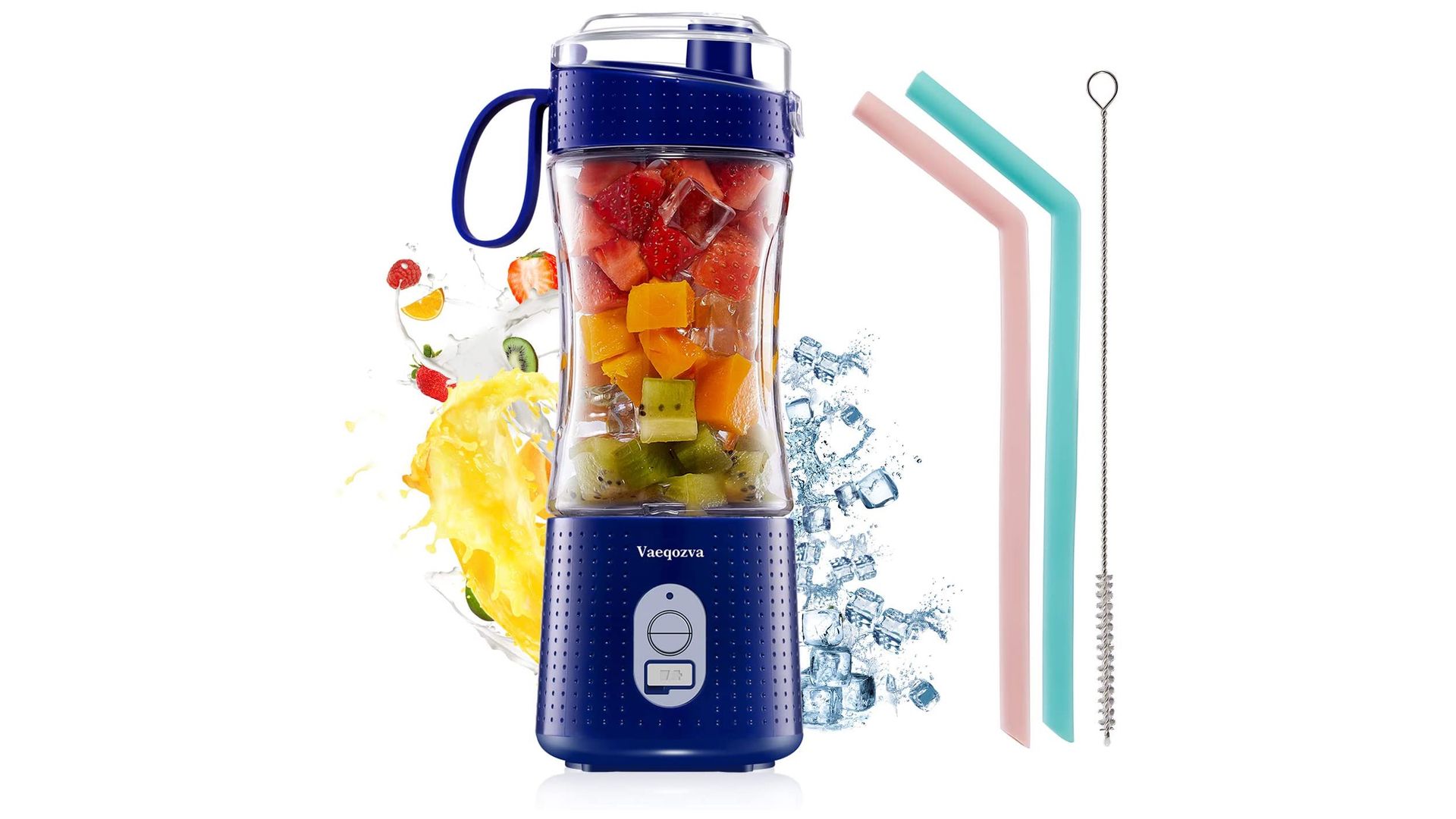 This high-ranking model comes with a small 380ml container and 4000mAh lithium-ion battery capable of producing up to 20 blends on a single charge. Amazon users rate its low weight (580g) and wherewithal to blend the crap out of most fruit and veg with little fuss. They also like the fact it comes with a drinking spout and two silicone straws for easy sipping on the fly. And like any blender, it's really easy to keep clean – simply fill with water and some washing up liquid and blitz it till its clean as a whistle.
This attractive model has received a varied user response on Amazon but most buyers seem really happy with it. The Fityou has a capacity of 450ml (though one user has said it's nearer 350ml) and comes with a 100w motor, stainless steel six-star blade, a 4,000mAh battery and a battery charge indicator that lets you know when it's time for a boost.
The Fityou is equipped with a silicone glass container that can be easily separated from the motor housing and taken with you. While not the highest rated model on the shelf, according to some reviewers it is one of the few that doesn't have trouble blending small chunks of apple and pineapple.