If you're looking to run your mobile games at the highest resolution and frame rates then you're going to want one of the best gaming phones of 2023 – and our definitive list is going to direct you straight to them.
Gaming phones are built with performance and intuitive controls in mind. They always feature big screens and high-end specs, and they'll often come with tweaks (such as shoulder buttons) that have been added with gamers in mind.
Far from being gimmicky, these phones are actually among the very finest handsets on the market today. You might be surprised at just how close the gaming experience on these devices is to something you'd get on your console or computer.
We've tried to include something for everyone when it comes to the best gaming phones, but you do always have plenty of options: you might also want to check out our guides to the best phones, best cheap phones and best Android phones too.
Which is the best gaming phone in 2023? The top 3
Why you can trust T3 Our expert reviewers spend hours testing and comparing products and services so you can choose the best for you. Find out more about how we test.
The best gaming phone for a lot of people will be the ZTE Nubia Red Magic 7, which boasts a fantastic screen, lots of power, and a host of accessories designed to make the mobile gaming experience as smooth as possible.
The best premium gaming phone in our opinion is the Asus ROG Phone 6: it's from a well-known and well-respected gaming brand, and as well as offering stacks of power it also looks fantastic (check out those glyphs on the back casing).
The best value gaming phone at the moment is the Xiaomi Black Shark 5 Pro, which for a reasonable price offers everything you need in a gaming phone and then some – like the handy shoulder triggers built into the smartphone's design.
For several years now, the Nubia gaming phones from ZTE have been investing heavily in the tech that gamers want: and in the case of the Red Magic 7 that includes a large 6.8-inch screen that boasts a maximum 165Hz refresh rate and up to 700 nits of brightness. It's a real looker.
There's also an advanced cooling system on board, a dedicated Game Space inside the software, and the high-end Snapdragon 8 Gen 1 processor running everything. Considering that you can also get this phone with up to 16GB of RAM, it's a real market leader in terms of its specs.
We do have a few very minor complaints, but they are minor – such as the odd software quirk. It functions very well as a normal phone as well by the way, in case you were wondering, but with all the power on board and that big screen, don't expect miracles in terms of battery life.
There's no doubt that the Asus ROG laptops are some of the best in the business for gamers, and the similarly branded smartphones are doing the business as well. The sixth version of the Republic of Gamers handset brings with it a number of improvements, including a 165Hz refresh rate screen and the latest Snapdragon 8 Plus Gen 1 processor from Qualcomm.
You're certainly not going to be disappointed when it comes to the power packed into this handset, and the Asus ROG Phone 6 will cope comfortably with any kind of mobile game that you want to try and play on it. It's available with up to 16GB of RAM, which says it all really.
We also like the better-than-average battery life available with this phone, and the glyphs built into the back casing. There's even a customisable OLED strip on the back of the handset that adds a serious amount of style, and Asus has made sure there are plenty of useful accessories available for this phone too.
You know that the Xiaomi Black Shark 5 Pro phone is serious about gaming when you notice the integrated shoulder trigger buttons – it means you don't have to spend quite as much time covering up the screen with your fingers while you try and hit software buttons on the screen.
Beyond the shoulder buttons, this is a fine-looking phone, and it's absolutely packed with power, as you would expect: one of the latest chipsets from Qualcomm, plus enough RAM and storage to handle the best mobile games available at the moment. The battery life isn't great, especially if you're gaming, but it's good enough.
Xiaomi has been manufacturing these Black Shark gaming phones for some time now, and it shows in how polished and premium this handset is. It's also good value: it's not cheap, but it's one of the best gaming phones when it comes to getting as much bang for your buck as possible.
Best gaming phones 2023: the best of the rest
The iPhone 14 Plus isn't specifically marketed as a gaming phone, but it definitely qualifies as one due to its large 6.7-inch screen and its powerful A15 Bionic processor. The chipset isn't as fast as it is on the iPhone 14 Pro models, but it offers plenty of power nevertheless – and of course it's cheaper than the Pros too.
One of the advantages of going for an iPhone is that you get an absolute wealth of games to pick from. While most major titles are available on iOS and Android now, there are still some iOS exclusives, including the titles that are produced for the Apple Arcade service (which requires an extra subscription).
This being an Apple device, you know it's going to last you a long time. The pixel resolution and the screen refresh rate aren't the best, but there's a lot here to make up for it, and you're guaranteed to be able to get any game running smoothly and looking great on this device.
A powerful flagship phone that excels at just about everything, the Samsung Galaxy S22 Ultra is great for gaming – it is expensive, but we think that it's worth the investment considering how much you get back in return. There's even a stylus as the Ultra model takes over from the Galaxy Note series.
Every spec you look at is impressive, from the premium chipset to the amount of storage and the battery capacity. The Ultra is significantly better than the other Galaxy S22 models in most departments, including the rear camera capabilities (not that camera quality really matters when it comes to a gaming phone).
Importantly for playing games, the screen measures a spacious 6.8 inches from corner to corner, and games look absolutely stunning on it. The adaptive refresh rate technology means the screen can go up to 120Hz depending on what you're using the phone for.
While it may not be the first phone that comes to mind for mobile gaming, the OnePlus 10 Pro is actually a fine choice for gamers: it can quite easily handle most tasks, including the most demanding mobile games around at the moment.
That's largely down to the Snapdragon 8 Gen 1 processor and the fact that you can get up to 12GB of RAM packed into this handset. If you need a bit more muscle, the device is actually able to borrow more RAM from its internal storage as and when needed. That all makes for a very fast and efficient handset.
This phone is also very smooth and incredibly responsive to use thanks to the 120Hz refresh rate. And the 6.7-inch screen is big enough to play mobile games comfortably, giving you plenty of room to see the action up close.
While the Oppo Find X5 Pro may not be an obvious choice for gamers, it's actually perfect as a gaming phone – not only does it offer powerful performance and a really impressive screen (which is what you're looking for first when it comes to playing games on the go), it excels in other areas as well.
Those areas include the ceramic design, which we found stunning to look at and hold, the fantastic camera system, and the much-better-than-average battery life: even if you're pushing the phone to its limits with mobile games, you're still going to get plenty of hours between charges.
At the heart of the phone is the Qualcomm Snapdragon 8 Gen 1 chipset, which means rapid speeds for your games and other apps – and thanks to the 120Hz refresh rate screen, they'll look smooth and fluid in action too. In summary, it looks great and it's great at playing games.
Google is really getting into its stride with the Pixel series now, as the Google Pixel 7 Pro shows: this is a phone with a distinctive look and choice of colour schemes that really help it to stand out, and there's plenty of power under the hood thanks to a custom Tensor chipset designed by Google itself.
The phone really stands out in terms of the software experience as well. As with Apple and the iPhone, Google is able to develop the software and the hardware together when it comes to the Pixel series – that means a highly optimised end result without a hint of stutter or lag.
When you're done with gaming for the day – which will be well handled by the 6.7-inch, 120Hz screen – there's lots more to enjoy on this phone, not least the advanced camera system that's capable of taking some superb shots. As an added bonus, battery life is impressive too.
The Poco F4 GT hits a lot of the key features you want from a gaming phone: a powerful processor, a fast and fluid screen, and some special nods towards gamers. In this case, those nods include magnetic pop-up trigger buttons that make it much easier to control the action on screen.
We're also big fans of the way that this phone has been put together, with a high-quality glass and metal shell that feels great to the touch. The audio is also fantastic as well, and there are four speakers on board this smartphone to make sure your games sound as good as they look.
While it's not quite a perfect phone – it does tend to get hot at times, and the battery life could be better – we'd say that it absolutely qualifies as one of the best gaming phones around at the moment, and it's well worth considering if you're shopping for something in this category.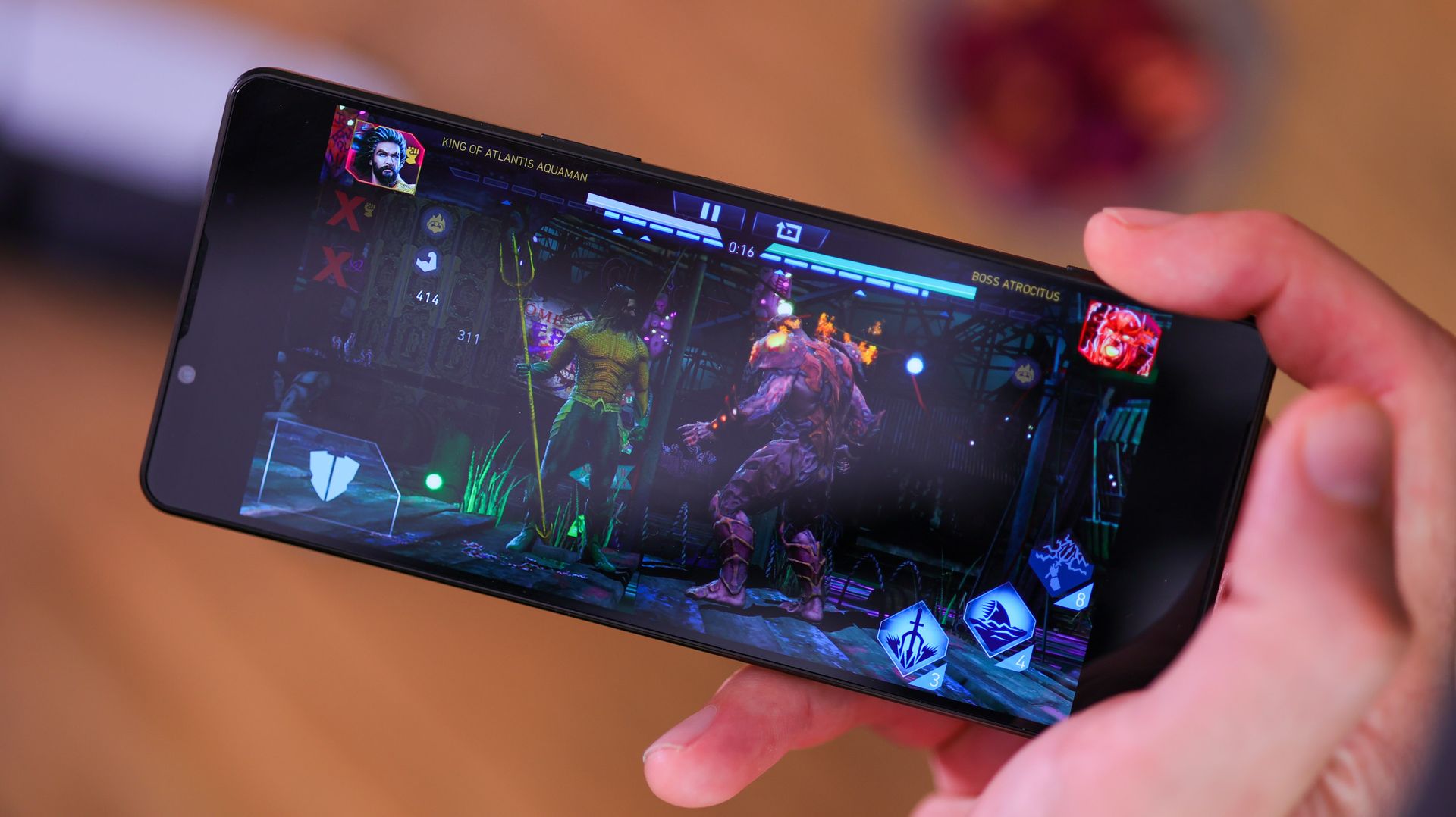 With a large, 120Hz screen and one of the fastest chipsets around, the Sony Xperia 1 IV instantly qualifies as one of the best gaming phones around even before you pick it up and start using it – but thankfully the actual experience is as good as the specs list when it comes to this handset.
While that 21:9 aspect ratio display isn't going to suit everyone, it certainly offers plenty of room for playing your games, and in our testing we were able to play the latest mobile games with ease. Whatever game you want to throw at the Sony Xperia 1 IV, it's going to be able to cope.
Away from gaming, there's a superb camera system installed here (as you would expect from Sony), and the large capacity 5000mAh battery is very welcome too. This is absolutely one to add to your shortlist if you're after a phone that's well suited to extended gaming sessions.
How to choose the right gaming phone for you
There's one really big question you have to ask yourself when buying a gaming phone, and that is do you want a gaming phone with gaming aesthetic and extra features, or just a quality mobile that has buckets of power to play games?
Because the truth is that the vast majority of phones are perfectly capable of playing almost all mobile games with ease, and certainly any mid-tier or flagship phone. You won't find hardly any games in the iPhone App Store or Google Play that can't be run well by most phones made today, as that is very much where these game makers make their money. They want the most people to be able to play their games, so you tend to find very few titles that have any sort of elite demands in terms of power.
As such, unless you specifically want the gamer aesthetic and features like built-in triggers and advanced cooling systems, you're almost certainly best picking up a handset like the Apple iPhone 12 or OnePlus 9 - rapid, powerful handsets that play games really well but also are just great all-round phones.
Basically, though, it's a win-win for gamers looking to buy one of the best gaming phones, as basically whatever they purchase will be able to crush the games that they want to play. It's just down to how much extra spend the gamer is prepared to drop for fancy gamer-focussed features.
Best gaming phones: the T3 difference
The very best gaming phones are technological triumphs. The very best ones combine super-speedy silicon with streamlined software and optimised operating systems to deliver incredibly immersive experiences. They combine all the qualities we love here at T3: design, engineering and innovation – and because games demand so much from your phone it means that you can be sure your new gaming phone is superb at all the everyday stuff too.
As with our best phone guide, we've put this guide together knowing that everybody's different: what's ideal for one kind of gamer or genre might not be ideal for you or the games you want to play. That's why we've covered a wide range of phones here to ensure you can find the perfect gaming buddy.
We've also put together a complete set of T3's authoritative guides based around specific platforms and features, so if you're loyal to a particular brand or need phones with particular characteristics they'll help you discover the best Android phones if that's your preferred phone OS, or the best small phones if your fingers tell you that today's flagships are just a little too big.
We've also curated dedicated phone guides to specific brands, such as the best Samsung phones, and we've rounded up the best wireless chargers to make it easy to keep your phone powered up.
Although the best gaming phones right now aren't folding ones – at least for hardcore gaming – we've also produced a guide to the best foldable phones on the market if you're interested in a larger play area for more casual titles.
The best Black Friday deals could help you get your hands on the best phone for less: every year we see really great deals on some really great gaming phones, so it's wise to keep your eye out for Black Friday bargains: it can be a great way of getting the perfect phone for less.