9 crazy watch designs we actually want to wear
Perfect for eccentric millionaires...
1/10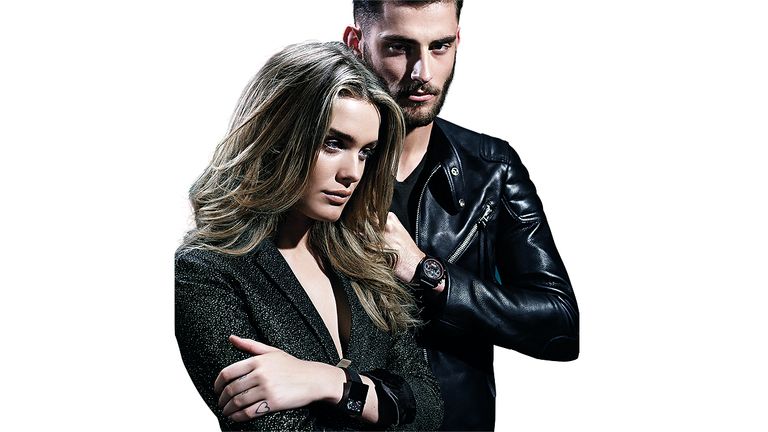 Introduction
Watches can be a boring, functional affair, but they can also be brilliantly insane - especially if you have a lot of money.
If T3's favourite traditional timepiecesare too understated for you, check out these hulking monstrosities which are perfect for eccentric millionaires with a penchant for outlandish wrist wear... for the rest of us though? Let's just call it watch-porn.
2/10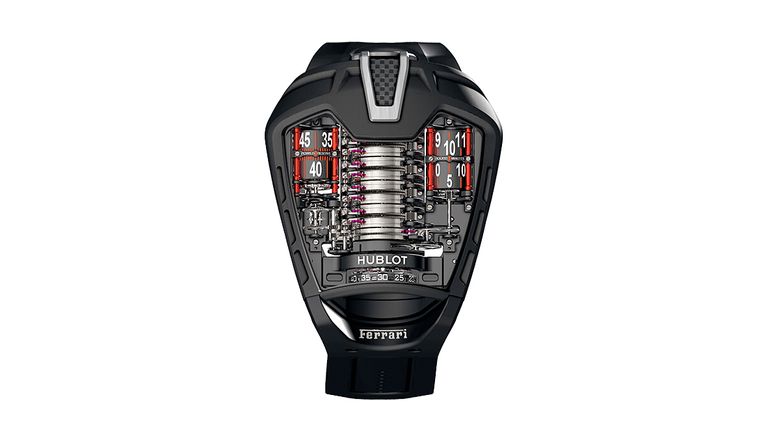 Hublot MP-05 La Ferrari
This Hublot was created to commemorate the arrival of La Ferrari - the company's £1-million hypercar. That's why it resembles an engine, and the movement has a definite racing feel, with swivelling anodised cylinders displaying the hours minutes and seconds. Only 50 will ever be made, but we think it's the perfect accessory for a La Ferrari owner.
£179,000
3/10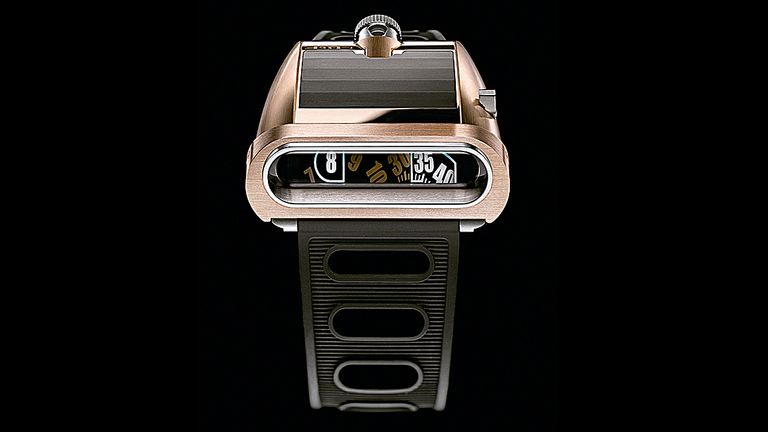 MB&F HM5 on the road again RT
The HM5 is also inspired by the automotive world, but this time taking design cues from 1970s American sports cars. The watch uses sapphire prisms to magnify and project the time on to its side-mounted dash, and it's made from 22k red gold. It's a lovely retro timepiece with a steampunk feel to it.
£62,000
4/10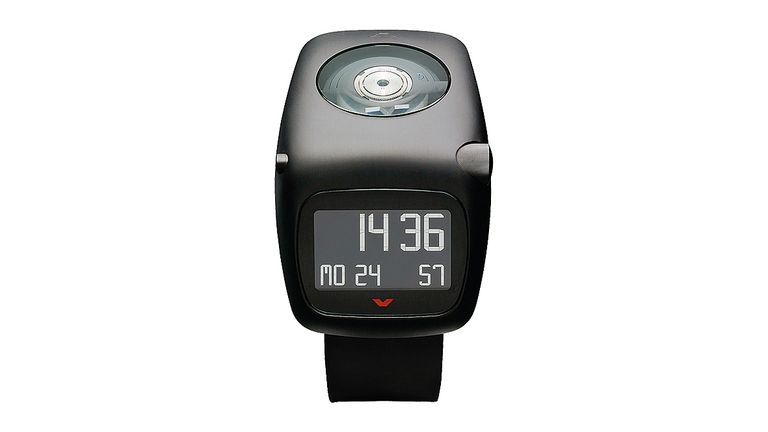 Ventura SPARC Sigma MGS
This 2006 concept is now made reality by designer Paolo Fancelli, using movement to power a flywheel that runs the display, with alarms and calendar. It's rather large, but exceptionally efficient, capable of storing energy for up to 45 days.
£1,558
5/10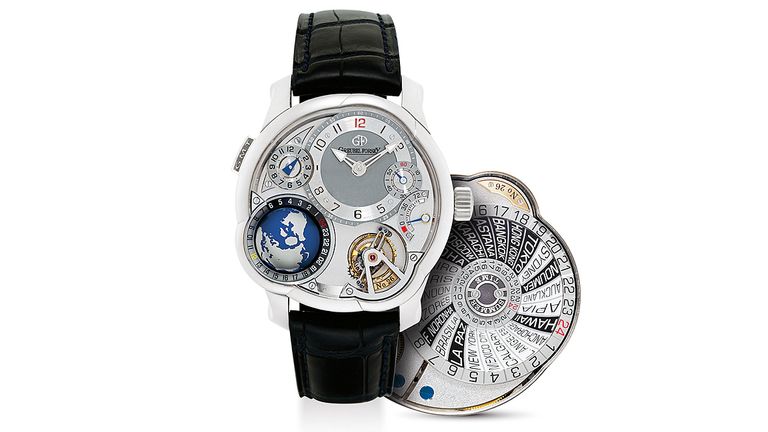 Greubel Forsey Platinum GMT
A GMT watch displays the hour in dual time zones, but this beast goes further, with a globe that spins in 24-hour cycles, not only lighting up the hour as it moves, but also moving a black scale to indicate night fall. It's an amazing feat of watch-making - it's just a shame that it costs more than most houses.
£354,000
6/10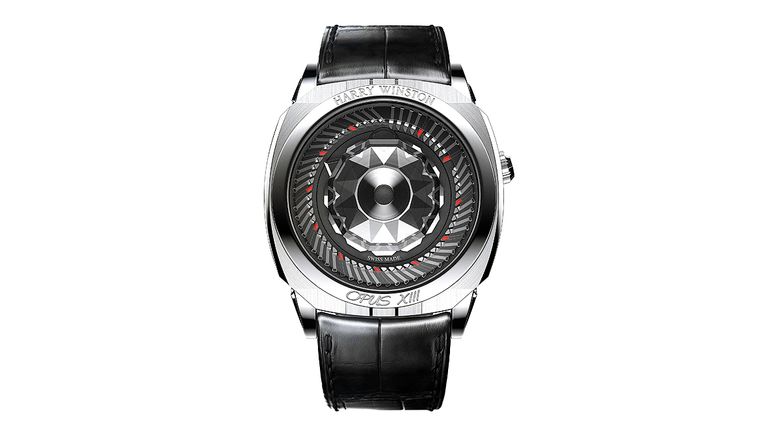 Harry Winston Opus XIII
Fifty-nine pivoting minute hands and eleven rotating triangles mark the hours and vanish and reappear to give you a vague sense time passing - well, if you've got 200 grand to spend on a watch being on time doesn't matter does it?
The case is white gold and the strap is made from hand-sewn alligator leather. Only 130 pieces have been made, so you better get an order in quick.
£225,900
7/10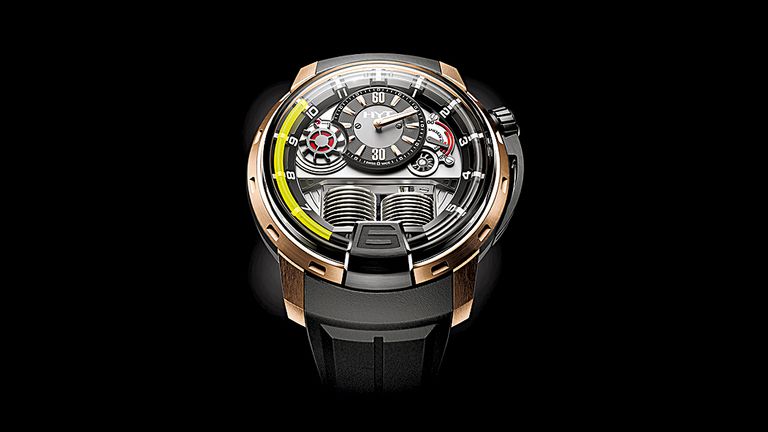 HYT H1 Black DLC and Pink Gold
A piston and bellows are operated by the mechanical movement that pumps glowing yellow fluid around the bezel, highlighting the current hour. It's an amazing concept and looks incredibly striking, as HYT put it, an exceptional combination of watch-making and fluid engineering.
£115,000
8/10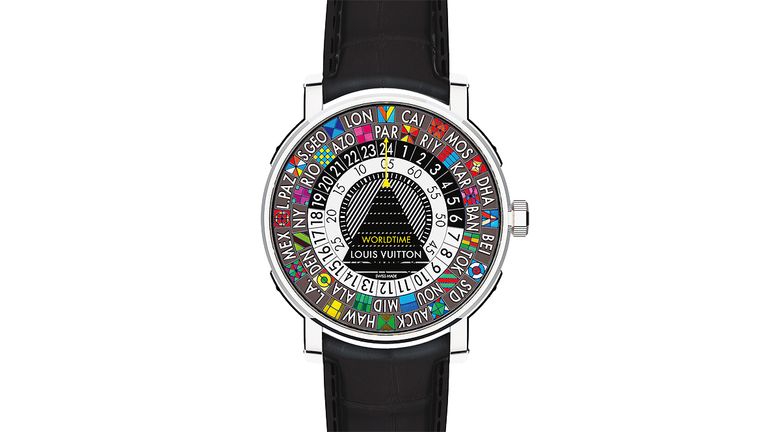 Louis Vuitton Escale Worldtime
Of a limited edition of 20, yes, only 20! This hand-painted face features 24 world locations, with the time picked out by three rotating dials. If you didn't have a headache before checking the time - you will do now!
£40,000
9/10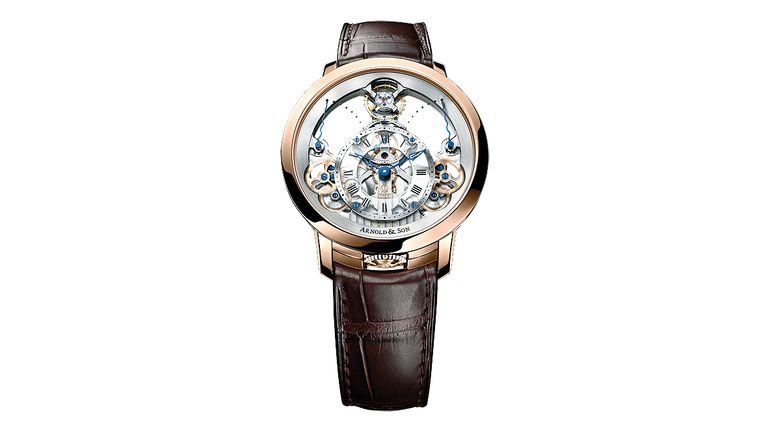 Arnold & Son Time Pyramid
The Time Pyramid sounds like something from Doctor Who, but it's not, probably. This elegant watch features a pyramid-shaped mechanism which is hand-finished by British watchmakers and hand-wound. Don't think it'll be smooth enough? It's got 27 inset jewels to ensure it's as smooth as it can possibly be.
£24,000
10/10
Orolog OC1 Chronograph
Want to sidestep the classic watch brands? Wear new Spanish designer Jaime Hayon's limited-edition creation. Using leather from Hermés and a Swiss movement, it's a Euro hit. Does anyone else think this has a hint of Pebble Time about it?
£725