If you're looking for a new pillow (and honestly, if your current pillow is more than three years old, then its best days are almost certainly behind it), choosing a new one can feel more than a little bewildering. There are so many options these days, including a whole array of different fillings, coverings and firmness levels, that you can never be certain that the pillow you ultimately choose will actually deliver a better night's sleep than your old one. And there's nothing worse than attempting to settle down to sleep on a pillow that feels wrong to you.
There's a new solution, though, in the form of the Panda Hybrid Pillow. It's built to deliver an excellent night's sleep for everyone, thanks to considerate design combined with quality materials. Read on to discover exactly how it can give you the best night's sleep you've ever had.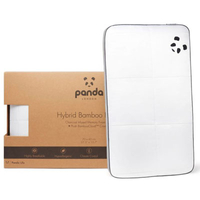 Enjoy 20% off the entire bamboo pillow range | Black Friday exclusive
Whether you're after the Hybrid Pillow, the original Bamboo Pillow, or pillows for kids, toddlers or even babies, right now you can take 20% off the price in Panda's Black Friday sale.
Advanced cooling technology
If you've looked into buying a memory foam mattress before, you may well have heard that it has a reputation for retaining heat, and that may well put you off taking the plunge on a memory foam pillow. However, with the Panda Hybrid Pillow, there's nothing to worry about.
Its CharcoCell Foam™ is infused with activated bamboo charcoal that helps to regulate temperature and to overcome memory foam's heat retention, the Panda Hybrid Pillow features Active O2 Micro-pods™ that work alongside the pillows deluxe 3D mesh frame to direct airflow, maximise breathability and deliver enhanced cooling. Finishing off the cooling package is a temperature-intuitive bamboo cover that reacts to your body temperature so that you'll stay cool in the summer and warm in the winter, with no danger of waking up in the night with a hot head.
Suitable for all sleeping styles and mattresses
With most traditional pillows, you need to think about your sleeping style before making your choice; side sleepers need thicker pillows, back sleepers don't need so much thickness but require more support, while stomach sleepers generally need thinner softer pillows. And on top of that, you need to factor in the firmness of your mattress; with a firmer mattress, you'll benefit from a softer pillow, and vice-versa.
However, with the Panda Hybrid Pillow, you can throw all these considerations out of the window. Its advanced CharcoCell Foam™ will adapt to you perfectly, no matter how you sleep or how soft or firm your mattress is. And even if you tend to move around a lot in your sleep, it'll keep pace with you and ensure you're comfortable and supported throughout the night.
Unbeatable neck support
Having the wrong kind of pillow won't just rob you of sleep; it can also mean that you wake up in the morning with a sore neck and shoulders due to inadequate support. But with the Panda Hybrid Pillow you can sleep easily without the prospect of waking up to a stiff neck.
Its charcoal-infused orthopaedic memory foam is designed to deliver optimum neck and spine alignment, giving you the ultimate in comfort and support and ensuring night after night of deep and restful sleep. And because it won't lose its shape or density over time, it'll keep protecting your spine and improving mobility for years.
Luxurious BambooCloud cover
Working alongside the Panda Hybrid Pillow's breathable foam is a gorgeously soft and fluffy BambooCloud quilted cover. Made from 100% bamboo, it's naturally temperature-regulating and antibacterial and hypoallergenic, making it the ideal choice for anyone with allergies or sensitive skin. It's also inhospitable and resistant to dust mites and bed bugs, and it's washable too, with the added bonus that its bamboo fibres will become even softer and more sumptuous with every wash.
Amazing eco-credentials
Why lose sleep worrying that you may have bought a pillow that's bad for the environment? The Panda Hybrid Pillow is made with sustainable, organically-grown bamboo that's positively kind to the environment, it's vegan-friendly and it's delivered to you in a recycled and recyclable box. And it gets better; Panda London is committed to protecting the environment via its Circle of Life Programme, which means it considers its environmental impact at every stage of its production process.
Order a sounder night's sleep today
Remember how, at the start, we mentioned that if your pillow's more than three years old, it's probably past it? That's not the case with the Panda Hybrid Pillow. Panda London's so confident in its pillow's ability to stay supportive and free from faults that it provides a 10-year guarantee. And if you're still not sold, Panda also gives you a 30-day trial so that you can find out for yourself just how comfortable and supportive this pillow is, and if for whatever reason you don't get on with it, you can simply send it back for a full refund with your postage costs covered. So why wait for a fantastic night's sleep? Order the Panda Hybrid Pillow today, and you'll get free UK delivery.