Your next Vauxhall will come with OnStar, its own built-in butler
T3 tackles Vauxhall's new in-car concierge service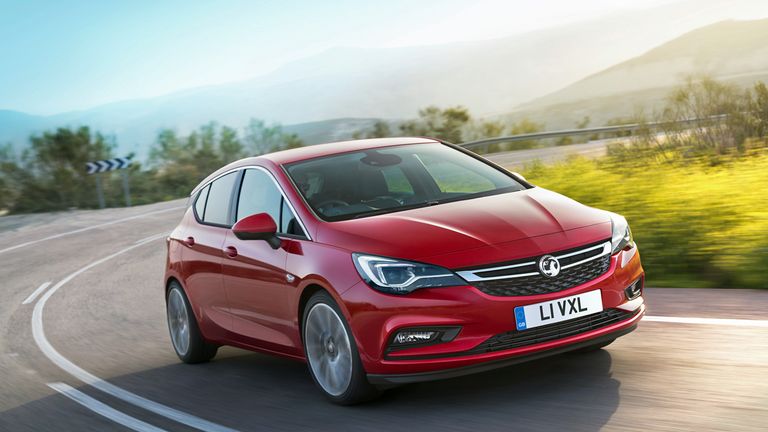 1/5
What is Vauxhall OnStar?
It's an upcoming service that connects drivers to a call centre in Luton for all sorts of query answering. Starting with the Astra pictured here, it'll be standard across a wide range of upcoming Vauxhall products. It works by installing a 4G SIM card and powerful antenna inside the new vehicles.
Press the blue button that's mounted near the rear-view-mirror and you'll be instantly connected to an advisor via the on-board speakers and microphones. These clever bods can hunt down addresses, beam directions to the sat nav system and offer assistance in emergency situations.
2/5
What can the UK version do?
General Motors, Vauxhall's American owners, have been using OnStar for 20 years now and it has some 7 million customers but the service has come a long way since its inception.
The technology behind the system is much improved and our cousins from across The Pond can do all sorts of fancy things these days, like have the operator book hotels while on the move, remotely unlock doors and even bring a stolen car to a halt on the highway.
The European system is slightly different, for legal and technical reasons, but it can still do some handy stuff...
OnStar is plugged into the vehicle's navigation system, diagnostics ports and safety sensors, meaning that an OnStar operator pretty much knows everything about the car and its location.
In the event of an accident where the airbags are deployed and the crash sensors set off, OnStar will automatically connect to an advisor in Luton, who will first make sure everyone is ok and secondly, contact the emergency services.
The advisor will have details of the car's location, a diagnostics report and a direct line to the occupants, meaning they are basically first on the scene of an accident.
If the doors are locked and the occupants are unconscious, the advisor can allow remote access for the emergency services and instantly offer information on the type of accident and whereabouts to speed up the rescue.
The service requires a phone signal to connect to the call centre, which is where that powerful antenna comes into its own. But if the car is in a phone signal black spot, OnStar can still ping out a distress code, which is picked up by emergency services nearby.
3/5
Does it also do entertaining things?
Yeah, it's not all about the morbid stuff. Subscribers to the service get an all-you-can-eat data bundle for the first year, in-car Wi-Fi hotspot and the ability to connect up to seven devices.
Vauxhall also states that they want customers to use the service for all manner of queries. It's free to use and manned 24/7, so rather than pulling over to Google hotels in the area, why not let the OnStar advisor do it while you trundle along?
It's brilliant for finding out information on the go, too. For example, you could ask the helpful operator what time your local Sainsbury's closes, how long it will take to drive to Cardiff from London or what the weather is doing at your destination.
Vauxhall doesn't like us journalists referring to the European service as a full concierge service, as we currently can't have an operator book a hotel, flights and tickets to the cinema just yet… But it's on the horizon.
4/5
But what if I don't want my car spying on me?
It's true; privacy is a big concern for us Brits, which is why Vauxhall has installed a button that masks the location of the car at any point. In this mode, location details are only shared in the event of an accident.
The European privacy statement is also much stricter than the American version, which claims it can share personal information for marketing purposes.
Sarah Nicholson, Onstar Program Lead in Europe, says that there are no plans to do such a thing in Europe because Opel/Vauxhall doesn't want to scare customers away from such a novel product.
5/5
So is it any good and what does it cost?
I spent a day in a new Vauxhall Insignia that was kitted out with the latest infotainment system (touchscreens and digital instrument panels) and OnStar.
First of all, I was requested to press the OnStar button and ask the advisor for directions to a nearby coffee stop. The line connected after a couple of seconds and a helpful assistant came on the line to help.
I then simply stated the name of the hotel and the advisor read back the address and sent details to the sat-nav system. So far, so good but unfortunately we were directed to the wrong road.
Vauxhall think it was human error and stressed that they are still ironing out a few issues but the system was faultless after this slight mishap.
I called again and asked for the in-car Wi-Fi code, no problems. I also requested directions back to Vauxhall's HQ and this time it went swimmingly. Unlucky for Vauxhall, it seems the earlier mishap was a one-in-a-million occurrence that just so happened when the car was full of journalists. Oops.
OnStar will come as standard on around half of its range and will cost £395 to add as an option. The service is free for the first year, where customers will receive and unlimited data package and free breakdown coverage as part of the service.
After that, it will cost £79 per year, which includes the roadside assistance, but you'll have to sign up to a monthly data tariff. Vauxhall is still in discussion with providers about this.
A smartphone app is also thrown into the package, which can provide real-time vehicle diagnostics and allows users to heat and cool their cars remotely, locate them in a busy car park and remote start the car.