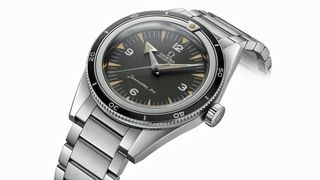 Omega Seamaster 300 1957
We're cheating here, as this is just about the most classic bloke's watch there is, returned to its original 1957 form. Result: none more classic.
As used by James Bond, sometimes (he's worn a variety of Omegas in his most recent, Dan Craig incarnation), the Seamaster 300 is water resistant to 300m, obviously.
However, this one is a replication, as far as possible of the 60-year-old original, which had the reference number CK2913. That is reflected in the finish and the layout of the dial.
Admittedly, the movement is much improved, and the luminescent paint will no longer give you cancer, but those are deviations from the original that we can live with, to be honest.
Look at the most recent special edition of the Seamaster 300 and see what differences you can spot.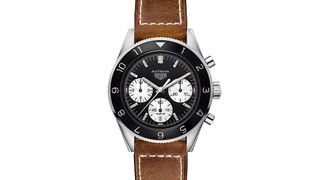 TAG-Heuer Autavia
TAG-Heuer is the Prince Harry of the watch world. Totally part of the establishment, but a teensy bit cheeky and sexy. But not illegitimate. No way.
If you want something properly cutting edge from TAG, try its second stab at an Android Wear watch.
If you just want an attractive chronograph that won't respond to voice commands or have a really unattractive interface, or do all the other Android Wear stuff, this is your huckleberry.
Originally designed for 'famous' F1 driver Jochen Rindt, this reboot is 42mm of white on black ('panda'), butch elegance.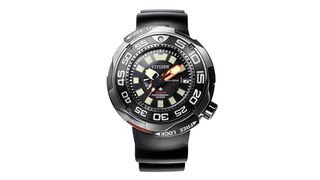 Citizen EcoDrive Professional Diver 1,000M
Lovers of irony will appreciate that this is the world's first diver's watch rated to a depth of 1,000m that is powered by the sun.
Of course, that far down, solar rays are few and far between, so perhaps it should run on plankton, or the radiation from rusting Soviet hulks.
What is undoubted is that, as usual, Citizen has come up with something fairly crazy and very chunky.
Check out that girth.
At 1,000m down your head will explode, and your only companions are fish that are beyond weird looking, even by fish standards. So it's good to know that the Professional Diver 1,000M has a locking bezel and Citizen's usual, year-long power reserve.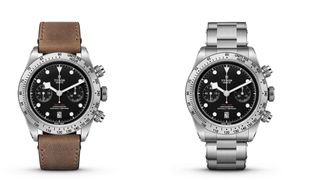 Tudor Black Bay Chronograph
Featuring a movement co-developed with Breitling, this loses a bit of the usual Tudor elegance, but sucks in a tad more testosterone.
Equally pleasing in both leather-strap and bracelet incarnations, it's a typically wearable Tudor piece. The team-up with Breitling is, for a certain type of watch fan, a bit like the Beatles duetting with the Stones, or Batman appearing with Superman (in a film that isn't really, really piss poor).
At £3,430 on steel bracelet and £3,220 on the leather strap, it's very much in the affordable bracket for this kind of thing, too.
Hey, do you like more extreme watches? Don't worry, we have just the thing for you, up next.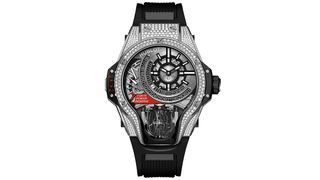 Hublot MP-09 Tourbillon Bi-Axis
My eyes!
Looking a bit like a Salvador Dali painting of a chrono, this disturbing 49mm miasma of watchmanship puts the tourbillon right there on your upper wrist, just so.
That means you can turn to your business dinner companion, casually flex your wrist, and say, "Hey, that cost me $169,000."
There are only 50 of them in titanium and only 20 in 'King Gold' ($211,000), so best get a step on. You will note there is a five-day power reserve, because it says so in f**king enormous letters on the face.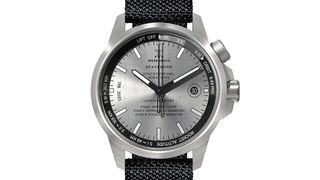 Werenbach Earth Collection
Been inspired by the Tim Peake Space Descent VR experience? This Swiss, crowd-funded watch is actually 'made with debris from the MS-02 Soyuz space shuttle, launched to the ISS on October 9 2016 and which returned to Earth on February 25 2017'.
In pure aluminium with a grey face, , it's got a suitably austere, Soviet look and, if not quite at Communist pricing, it's fairly affordable at around £800.
White, orange and black versions are also available, all with a choice of rubberised leather, calfskin or fabric straps.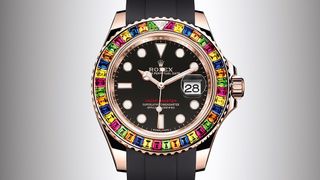 Rolex Yacht-Master 40
This hardy perennial of the Rolex line gets a Las Vegas makeover with the rose gold case blinged to within an inch of its life via the addition of 32 sapphires, one diamond and eight tsavorites, whatever they are.
Rolex is usually very reliable, very cold and very beautiful. Which is great, but sometimes you just want something a bit more OTT. We think it's fair to say this delivers.
There's no pricing yet, but if you need to ask, you probably can't afford it.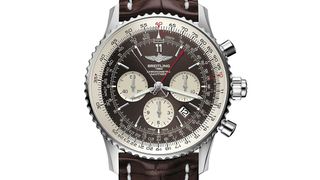 Navitimer Rattrapante
Looking like a stopwatch set inside an impossibly complicated set of scales, this is classic Breitling, and an update of a model first seen in 1952.
That makes it 65 years old, by our reckoning, but it's still not ready for retirement! Which would be a great joke if that was still the standard UK retirement age!
Featuring a split seconds complication, the chronograph uses "an innovative system serving to isolate the split-seconds hand so as to avoid its starting and stopping phases generating variable energy requirements liable to be detrimental to chronometric precision and reduce the power reserve."
But you knew that already.
Pricing: $11,090 in steel and $32,895 in gold.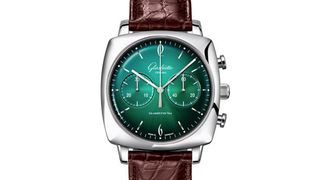 Glashütte Sixties Iconic Forest
Germany's Glashütte is usually known for the understated tastefulness of its watches, and this is about as bugged out as it gets.
It's a recreation of a chronograph from the 1960s, but it's quite contemporary, if only because it's green, the Officially Fashionable Colour of 2017.
1960s Germany was pretty staid - things got off the hook in the 70s - but there's a bit of psychedelic influence in the varnished, 'dégradé' finish, sunburst dial and a soupçon of lume on the hour markers.
It's also got a 'gator strap and is precisely 41.35mm square (ish), which is ever so German. Zo, now we make party, yes?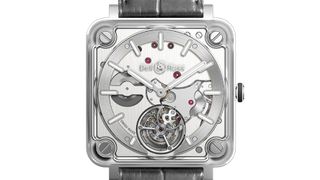 Bell & Ross BR-X2
If Apple made mechanical watches, this is what it'd look like. The clean industrial casing houses a flying tourbillon at six o'clock. The beautiful movement is sandwiched between two pieces of sapphire crystal.
The square automatic movement measures just 4.05mm thin, and features 257 pieces which have been hand-assembled by expert watch makers.
It'll cost you around $64,900, and go on sale later this year.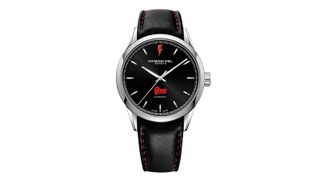 Raymond Weil David Bowie Limited Edition
Raymond Weil has released a special edition of its Freelancer to celebrate the life and music of David Bowie. It's an attractive, wearable piece, but also certain to be popular with collectors.
It features the iconic lightning bolt at 12 o'clock and the Andy Warhol illustrated David Bowie logo on the dial. Limited to 3,000 pieces, each is individually numbered, and the rear casing features a etched portrait of David Bowie, immortalised in 1974 by Terry O'Neill.
Raymond Weil's David Bowie Limited Edition will cost £1,395.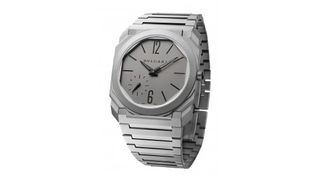 Bulgari Octo Finissimo Automatique
The elegant Octo Finissimo Automatique features a micro-rotor and self-winding movement which measures just 2.23mm thick, winning a third world record for the Italian luxury brand.
Yep, this is the slimmest automatic movement on the market, and it's an attractive piece as well, with a sandblasted titanium case and black PVD coated hands.
The previous holder of the record was Piaget, which offers a positively portly movement measuring 2.35mm thick.
Liked this?
Check out T3's favourite mechanical timepieces