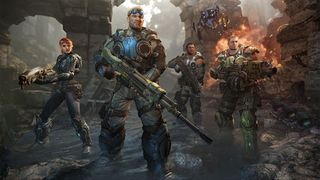 Gears Of War: Judgment
This prequel to the first Gears Of War title is far more light-hearted and punchy than its predecessors, probably due to the fact it was developed for Epic by People Can Fly, the studio behind the over-the-top fragfest Bulletstorm. In it, the COG's sarcastic loudmouth, Baird, and his squad blast their way through several well-constructed gun-fueled set-pieces, which players can tweak by adding optional difficulties. The multiplayer adds a class-based aspect to its close-quarters shotgun hotbox matches and there are tons of skins, weapons, characters and ribbons to unlock. Gears Of War: Judgment doesn't do anything new or innovative, but it boasts a ton of replay value and it's a rock solid entry in this flagship shooter series.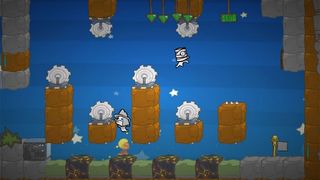 BattleBlock Theater
Cute, silly and occasionally rude, BattleBlock Theater comes on like the illegitimate offspring of Super Mario Bros and Super Meat Boy. This is a platformer, and a jolly good one at that, boasting loveable cartoon graphics, laugh-out-loud humour and level design that oscillates between challenging to downright punishing.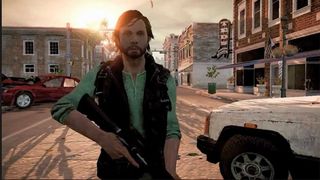 State Of Decay
Undead Labs's open world zombie game doesn't look pretty. In fact, thanks to its lousy frame-rate, occasional texture pop-in and clipping issues, it looks downright ugly. But you ignore this gem to your detriment as State Of Decay is flat out one of the best zombie apocalypse survival sims ever made. The reason for this is that State Of Decay puts a focus on building up a scraggily group of victims into a formidable band of survivors. Aside from embarking on missions aimed at picking up resources, players need to manage the morale of the band their character comes into contact with, forcing them to invest in these AIs until they become controllable avatars. The more they give to the group, the stronger the group becomes and the more their survival chances improve. In State Of Decay, like Left 4 Dead, teamwork is a survival trait. Humans are pack animals after all…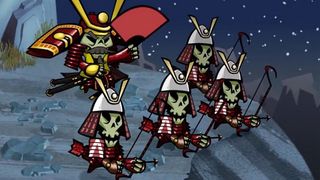 Skull Of The Shogun
Imagine a classic tale of revenge from beyond the grave told in cartoon form completel with witty one-liners and fart jokes. Now imagine a turn-based strategy game in which combat isn't rigid and, instead, is a free-flowing zany affair. Then imagine a difficulty curve that rises steadily throughout without becoming overly punishing, but that also never throws the game for you. Does all of this sound up your street? Then may we suggest: Skulls Of The Shogun.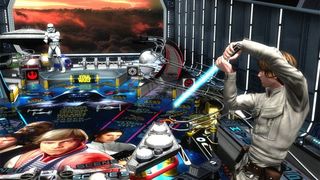 Star Wars Pinball: The Empire Strikes Back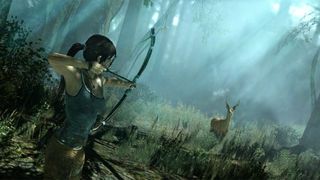 Tomb Raider
In this orgin story, the most iconic female character in gaming finds herself cast adrift on an island in the South China sea that just happens to be filled with gun-toting marauders. After escaping their clutches, Lara Croft makes her way through the island, searching for a way for her and her friends to escape without ending up as fishfood. Tomb Raider is darker in tone than its predecessors and contains some scenes of absolutely eye-watering violence. But, Lara Croft may have taken a page out of James Bond's handbook on gritty re-boots - see: Casino Royale, see also: SkyFall - but the main draw here is wrapped up in exploring the island environment, collecting salvage, solving plaform puzzles and exchanging fire with bad guys. You know, all the stuff the best adventure games are made of.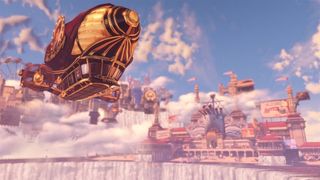 BioShock Infinite
Video games are known for the rich and fascinating worlds they contain but few can match BioShock Infnite for the sheer spectacle on display. In it, players head into the city of Columbia, a metropolis floating in the clouds in the year 1910. They're tasked with rescuing a woman named Elizabeth who is being held captive in tower, but this well-worn gaming trope is merely a doorway into a narrative as deep as it is compelling. As they blast and kill their way to some sort of denouement, players will stumble through plot and inter-dimensional layers that pile up questions and intrigue alongside corpses and shell-casings. This isn't your typical shooter and it's ending is likely to leave you puzzling over what you just played weeks after the credits have rolled.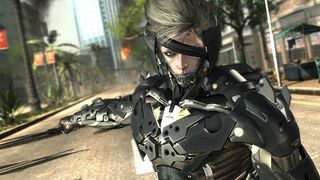 Metal Gear Rising: Revengeance
The first brand new Metal Gear IP for the Xbox 360 (after the porting of some previous entries) Revengeance isn't exactly reflective of the series as a whole, but it's terrific fun nontheless. Developed by Osaka barnstormers Platinum Games, Revengeance trades the MG stealth quotient for visceral sword-based action. The learning curve is a poke in the eye, the dialogue is utterly ridiculous but the combat mechanics and high-octane action are incomparable.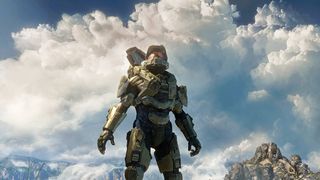 Halo 4
The latest instalment in the Xbox 360's flagship shooter series heralds the return of Master Chief and stakes a claim on the best online shooter action offered in a game all year. The story is complete space opera pap – even if it does contain a couple of heart-in-mouth moments – but it's an entertaining way to spend eight or so hours. Halo 4's multiplayer, however, is absolutely compelling. Complete with RPG augments, customisation options, tons of maps and match types, it's possible to lose hours of your life to 343's beautiful beast of a game.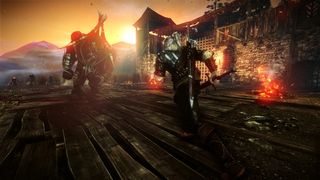 The Witcher 2: Assassin Of Kings
PC wonks will already know that Witcher 2 is easily one of the best fantasy RPGs of all time. Now, thanks to a fantastic port courtesy of original developer, CD Projekt, Xbox 360 fans have been introduced to its coarse and violent delights. This is a game that earns every ounce of its 18 rating; its rollicking tale of regicide and war in which brutal battles, political intrigue and steamy sex scenes are the order of the day. It also contains language that would make a sailor blush.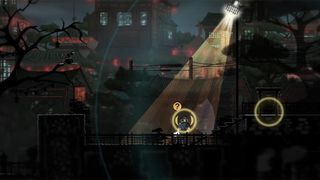 Mark of the Ninja
In an time where stealth franchises are moving more towards action, leave it to the creators of Shank to show the rest of the industry how its done. Mark Of The Ninja mixes up side-scrolling action with some of the best stealth gameplay around and all of it's augmented with a compelling RPG element that opens up fun weapons and powers. Top it all off with some of the best visuals in any game all year and Mark Of The Ninja is easily one of the best titles available on XBLA.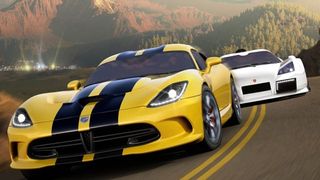 Forza Horizon
The Forza games have always been the racer of choice on Xbox 360 for petrol heads looking for drool-worthy dream machines and realistic handling. However, until Forza: Horizon came along, drivers were confined to a series of tracks. Horizon gifts racers an open-world to cruise through, compete in events and even take part in the odd street race. Louder, brasher and perhaps more in-your-face than the series that spawned it, Horizon injects a ton of fun into an already excellent racing franchise.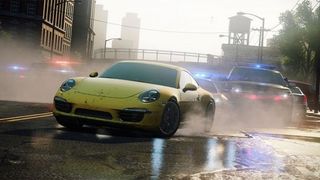 Need For Speed: Most Wanted
Criterion's racer is a little more arcade-like than Forza, but it's easily one of the best games released all year. Players are cut loose in a vast, open-world city where they can compete in races, cause havoc and flee from the cops. It's also a rare title that gives gamers who own a Kinect module an edge on those who don't; players are able to use Kinect voice interface to switch out racing mods on the fly, meaning that changing to off-road tyres mid-race won't cause you to smash into something at 900 miles an hour!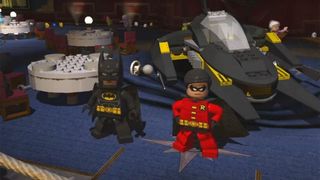 LEGO Batman 2
The LEGO games have been dependable family-oriented fare since LEGO Star Wars popped up on gamers' radars in 2006. The basic template has hardly changed over the years, but for the second LEGO Batman title, developer Traveller's Tales pushed the boat out, gifting players with a huge open world to explore, a ton of superheroes and villains to unlock and play with and hundreds of collectibles to hunt down. It also boasted some of the sharpest, funniest dialogue in any game all year.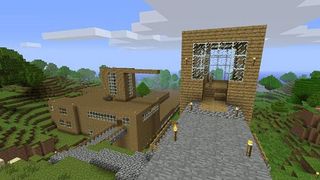 Minecraft
The PC phenomenon finally arrives on Xbox 360 courtesy of XBLA. Players are dropped into a world with distinctly primitive look to it. They then set about mining for raw materials and building structures and items in this block-based world. At night monsters attack and it's up to the player to provide themselves with shelter and defences. Players are limited by their own imaginations as to what they can create in Mine Craft and while this port misses some of the features from the original PC-based title, it keeps what made the game special in the first place in tact.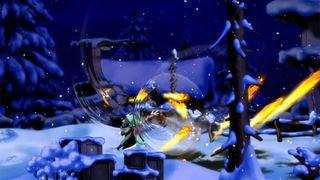 Dust: An Elysian Tail
Another fantastic XBLA exclusive, Dust: An Elysian Tail is a 2D side-scrolling beat 'em up set in a magical land where heroes battle slavering enemies with sentient weapons. There's a decent RPG element to the proceedings and the story is slightly flat, but what immediately makes an impact are the game's stunning visuals and gorgeous soundtrack.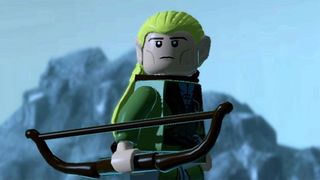 LEGO Lord of the Rings
Well it was bound to happen eventually; with Traveller's Tales weaving their LEGO magic with the biggest and most beloved film franchises in existence - Star Wars, Indiana Jones and Pirates Of The Caribbean - a LEGO game set in Middle Earth feels inevitable with hindsight. Like LEGO Batman 2, players are given open-ended massive maps to run about in as they smash up blocks, solve puzzles and batter enemies. What sells the whole experience is the fact that LEGO Lord Of The Rings is shot through with TT's trademark sense of fun without sacrificing one iota of the dark atmosphere the films are known for. One of this year's best.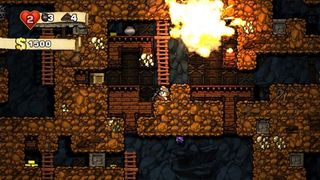 Spelunky
It may look on the surface like some sort of brick-block Indiana Jones adventure, but Spelunky is far, far more than that. This is a rock-hard, old school platformer that demands the player sees it out in one sitting – there are no save points – and in which players are guaranteed to die in loads of hilarious ways. The game rearranges itself everytime the player quits so you're also looking at a ton of replay value here. One of the best reasons to own an Xbox 360, hands-down.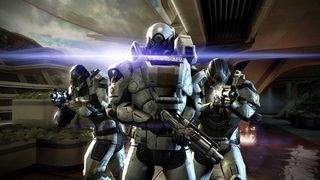 Mass Effect 3
BioWare's epic sci fi saga about Commander Shepherd's battle to save the universe from an alien race of genocide sentient spaceships came to an end this year. The ended of Mass Effect 3 divided fans and kicked off a storm of controversy, but it's still one of this year's essential titles. Kinect owners have the added bonus of being able to bark orders at their AI allies in squad-based attacks, too.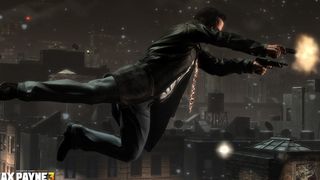 Max Payne 3
Possibly the grittiest title released all year, Max Payne 3 saw the most hard-bitten protagonist in shooters working as a security guard for a family of Brazilian millionaires. Shot through with the style of a Tony Scott action flick, the action moves from shoot-outs in glitzy nightclubs to slums filled with crushing poverty. In each gun battle, bullet-time gives the player an edge over the rock-hard AI. It's also present in the game's admittedly excellent multiplayer, which contains enough great ideas to give the CODs and Halos of this world a genuine run for their money.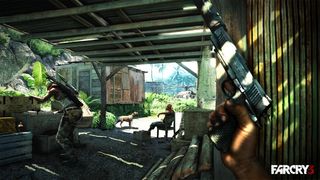 Far Cry 3
One of the best games released in 2012, Far Cry 3 centres on a tourist who is kidnapped by bloodthirsty pirates, and who escapes into the island wilds around him. Players can roam anywhere throughout the game's massive environment, attacking enemy bases, crafting equipment from animal hides and mixing performance enhancing cocktails from the local fauna. There's a decent multiplayer and co-op, but the draw is the game's 20 + hour campaign, whose narrative mixes Heart Of Darkness with Lord Of The Flies with Fight Club. Utterly essential.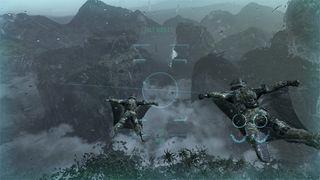 Call of Duty Black Ops 2
So there's this little game you may have heard of called Call Of Duty: Black Ops 2? It contains an amazing multiplayer in which players can while away weeks of their lives levelling up their profile, customisation their load-outs more thoroughly than ever before and blasting their mates over a series of match-types and maps. There's also a very decent campaign mode whose story and set pieces jump back and forth through time; players will find themselves shooting a rocket launcher at helicopters from horseback in the 80s and calling down drone strikes in the not-too-distant future. This little-known title packs a ton of high octane action so if you spy a copy, it's well worth picking up.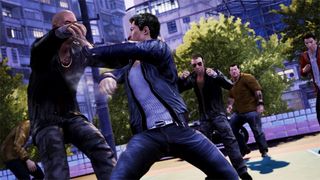 Sleeping Dogs
Ever fancy starring in your own Hong Kong action flick? Then pick up a copy of Sleeping Dogs, United Front's homage to HK cinema's late 80s hey-day. Players take on the role of an undercover cop sent into the underworld to bring down the Triads, who finds his loyalties tested when his police superiors turn out to be as corrupt as the criminals he's out to bust. The game's story is great, but it's the game's huge city of Hong Kong that's the star attraction here; it's bursting with activities to get stuck into, including street races, underground fight clubs and side missions for local hoods.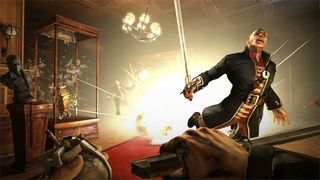 Dishonored
A superb, open-ended first person adventure influenced by the likes of Deus Ex, BioShock and Hitman, Dishonored tells the story of a disgraced guard turned assassin, hunting down the powerful figures who framed him. Players have a huge amount of choice in how they approach each mission; then use magical powers and stealth to move through environments unnoticed or they can charge in guns blazing. The story's not half bad and the Steampunk veneer is simply to die for.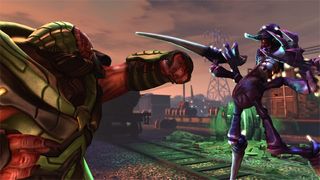 XCOM: Enemy Unknown
The re-imagining of a turn-based PC classic, XCOM sees the player taking charge of an international defence force tasked with repelling an alien invasion. The battles are taught, tension-filled affairs, where failure to cover your troops and think tactically can spell doom for your defensive efforts. Each successful mission earns the player resources they can use back at the XCOM base to turn into new weapons, armour and facilities to help defeat the alien menace. All the while, they'll need to manage their resources to ensure the nations backing XCOM receive support so they don't pull their funding. Defending the earth was never so challenging – or so much fun!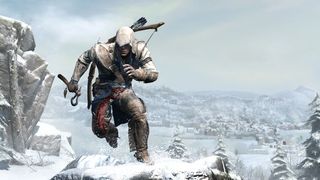 Assassin's Creed III
Players are new hero and a new setting in Assassin's Creed III, as Ubisoft moves the action from Renaissance Europe to Colonial North America. Players take control of Connor, a half-British, half-Native American who throws his lot in with the American Revolutionaries when his village is burned down by the Brits. The open-world parkour takes a bit of getting used to but once players give themselves over to AC III's lush environments they'll be hurtling through tree tops and leaping off cliffs in no time. The Frontier and Colonial towns are also bursting with side missions and collectibles, ensuring players will return to Assassin's Creed III long after they've completed the main story. It also doesn't hurt that this is one of 2012's most visually stunning games, either.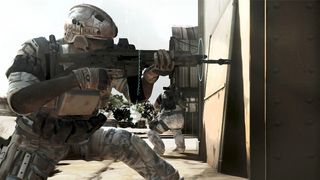 Ghost Recon: Future Soldier
Ghost Recon is a game that rewards nerves of steel, planning and above all else, teamwork. As players progress through the campaign on the trail of a missing nuclear warhead, they'll soon discover that charging into a firefight is the quickest and easiest way to get killed. This is a different breed of shooter to your average run-and-gun affair; success is only achieved by those with the patience to wait in cover and synch up shots with their teammates, taking out multiple targets on each stretch. It may not attract the average shooter fan looking for a power trip, but to those players who enjoy a challenge where success is guaranteed by the size of your magazine, Ghost Recon fits the bill perfectly.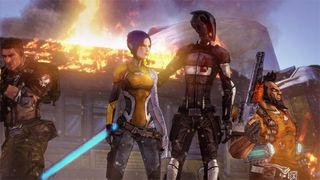 Borderlands 2
It's all about the loot drops, really. Sure, Borderlands 2 boasts a gargantuan environment, an addictive RPG mechanic, an endless arsenal of firearms and four character classes that allow for four distinctly different approaches to playing, but really, it's about the loot drops. Every creature, nutcase and outlaw the player blows away offers up a bag of goodies - cash, guns, mods, grenades, you name it. This paints every target as a walking treasure trove and this is what keeps players glued to Borderlands 2. Well, that, and some pretty decent gags...