You didn't misread that headline. You can really get a phone with a 200MP camera for less than £300. And it's not just a great snapper either. At the Honor store, you can get the Honor 90 for a mind-boggling £299 this Black Friday.
The Honor 90 is an excellent phone that I personally reviewed, and this Black Friday deal has me dangerously tempted. In my four-star review, I positioned it as one of the best phones for under £500, but in my mind, it's definitely the best phone for under £300.
When you pull this phone out of your pocket, with its gorgeous moon-inspired camera module, you'll have heads turning in a way that no other phone (except the Nothing Phone (1)) at this price can do. It's quite the looker but also more than just a pretty face.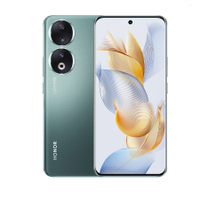 Honor 90: was £399 now £299 at Honor
Save £100 – A powerhouse phone that was already great value has now become essential, sporting a massive 200MP camera and a lush 6.7-inch AMOLED display beyond its price point. If you're after an affordable Android you just found it.
The 200MP rear camera isn't the only stellar shooter on this phone, the 50MP selfie camera is a joy and while you can't get 60FPS 4K video, 30FPS is enough for all but serious videographers.
Away from the camera, this phone is no slouch in the power department. The £299 price is for the 8GB RAM, 256GB storage model and although you can upgrade to 12GB of RAM and 512GB storage for another £50, most users won't feel the need.
During my testing I was particularly impressed with the battery life of this phone. Honor claims the 500 mAh hour unit can reach a mighty 19.5 hours of constant video playback and while I didn't quite manage to match that figure, the Honor 90 still performed very well.
In all, there was a lot to like about the Honor 90 at its original price tag, and this Black Friday, it has only gotten more compelling.