Having the best smart security camera installed inside and outside of your home helps you monitor the comings and goings of your family and guests, disturbs intruders, captures footage and gives you peace of mind while you're away. But with so many brands and options on the market nowadays, how do you know which one to choose?
As a smart home expert, I'd always recommend an Arlo Pro 4 security camera. With wide viewing angles, excellent video quality and smart features, you can't go wrong with the Arlo Pro 4, and right now, this premium smart camera is $300 in this security bundle deal at Best Buy.
View the Arlo Pro 4 security camera bundle deal
Originally priced at $599.99, the Arlo Pro 4 security bundle is now $299.99, helping shoppers save $300 on a new home security system. In the bundle, you receive three wire-free Arlo Pro 4 indoor/outdoor security cameras, four rechargeable batteries, a dual battery charging station, anti-theft mounts and security signs.
The Arlo Pro 4 offers 2K HDR video quality, 12x zoom and a 160° field of view. Packed full of features, the Arlo Pro 4 is designed to protect your home and scare off intruders. Its built-in siren erupts into loud noises when motion is detected to deter people from breaking in. Its colour night vision also allows you to view critical details when it's dark, and its integrated spotlight illuminates key features so you've always got a clear eye on your property. For more details, check out T3's Arlo Pro 4 review.
Even if you have the most advanced security camera, you can sometimes miss the action if you haven't installed it in the right place. But with this smart security bundle from Arlo, you have three cameras to play with so your view is never obstructed again (see the 6 spots you should never install your smart security camera for installation advice).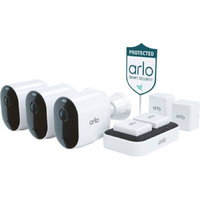 Arlo Pro 4 Spotlight Camera Security Bundle: was $599.99, now $299.99 at Best Buy
Get the Arlo Pro 4 security bundle for half price at Best Buy. With three Arlo Pro 4 cameras at your disposal, you can tighten your home security and oversee what's happening inside and outside of your home at all times… even when you're not at home. Available in black or white.
For more security deals, you can find low prices on Arlo home security at Best Buy and similar discounts at Amazon.