Sometimes you have to go back to go forward. Like, right back. But when that lands a Black Friday deal as insane as this one, it's worth it. I'm talking about the Microsoft Surface Pro 5, which is available as a refurbished product on eBay for a mere £220.
You read that right: a Microsoft Surface for two hundred and twenty quid. It's not even an entry-level model, as it comes complete with an Intel Core i5 processor and you can choose whether to opt for Windows 10 or Windows 11 too (the latter for a little more cash, admittedly). There are even keyboard and stylus options.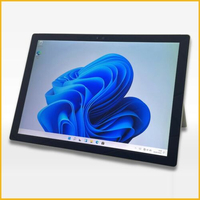 Microsoft Surface Pro 5: was £749.99, now £219.99
Looking for a laptop alternative that doesn't cost the earth? The Surface range has always been a great alternative, and with so much cash off this older-generation model, it's an ideal solution if you add the clip-on keyboard. So long as you don't mind it's not brand new or the latest kit, it'll serve you well.
Now there's always a caveat (or two) to such a deal: one, the Surface Pro 5 was launched in 2017, so it's a five-year-old product and shows itself as that in design terms; two, as I've already said, it's a refurbished product rather than a brand-spankin'-new one.
But for this kind of money that's hardly a biggie on either count: you can't buy the best laptops under £500 for as little cash as this. And that's why I think this deal will work really well for those who aren't fussed about having the very latest gear and who are just looking for a bargain. As a laptop-replacement option, Microsoft's Surface range has always held stacks of appeal. So here's a great chance.