With Christmas fast approaching, you're most likely on the hunt for gifts for your friends and family, and while you've missed the Black Friday boat there are still some fantastic deals across the web that will help you save money on your shopping list.
Noise-cancelling headphones make great presents for music lovers and travellers. The Bose QuietComfort 45 cans are some of the very best you can buy, but what's really great is that they've had a huge 27% price drop at Amazon.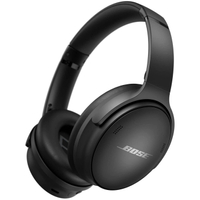 Bose QuietComfort 45: was £319.95, now £234.30 at Amazon
Save 27% on the Bose QuietComfort 45 at Amazon. These noise-cancelling headphones are the ideal travel companion because they manage to cut sounds out almost entirely, and they have top-tier audio quality to go alongside that.
Why you should buy the Bose QuietComfort 45
Bose's QuietComfort 45 are quite simply some of the best noise-cancelling headphones you can buy, in fact, we called them the 'king of wireless headphones'.
As you can read in the Bose QuietComfort 45 review, these have just about everything you could need. They're super comfortable with smooth synthetic leather cushioning on the earcups and the headband which means you can wear them for hours on end without any problems. And what's more, is that they come in a case to protect them when you don't want to have them on which is perfect for taking them on trips with you. Add to that 24 hours of battery life and you're onto a winner.
Of course, as with any pair of headphones, the sound quality is very important and these won't disappoint. We thought that what they offer 'is a clean, balanced sound which you can listen to for hours without feeling fatigued' - the sound is people pleasing, and you can tune it to your tastes thanks to the manual EQ settings in the Bose Music app which has bass, mid-range and treble adjustment.
You'll be able to keep your focus entirely on the music as well, thanks to the impressive noise cancelling, they can cut out everything from aeroplane noise to office chatter. But when you do want to hear what's going on around you, the Aware mode filters outside noise and balances it with your music.