When it comes to Amazon Prime Day – which takes place on 11 and 12 July this year – there are stacks of great deals, which we've highlighted the best of in a key Amazon Prime Day Deals feature. But when there's something truly standout the T3 team highlights it in a single post, which is where this incredible Chromebook deal fits.
An obvious entry into our Best Prime Day Laptops Deals feature, the Lenovo IdeaPad Duet Chromebook's price has dropped a mammoth 45% for the two-day sale only, which I think is a genuine bargain. You'll need to wait until the clock ticks over the midnight hour, though, as that's when the sale price will appear.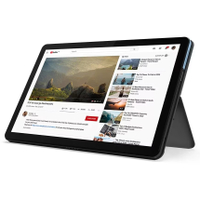 Lenovo IdeaPad Duet Chromebook: was £330, now £179.99 at Amazon.co.uk
With a mammoth 45% off the typical price, this 2-in-1 Lenovo Chromebook is a popular purchase – and at this lowest-ever asking price it's going to fly off the shelves. Not only do you get the simplicity of Chromebook's usability as a laptop, there's also tablet-like operation with touchscreen controls. It's a master of many features – and a real bargain, all considered.
This isn't any old Chromebook either, as it sits into the 'best budget' slot in T3's Best Chromebooks guide, where it's been leading the way for many months. That's always a decent measure – and data tells me that this is a super-popular purchase with buyers too – plus its solid 4-star rating in T3's Chromebook Duet review further shows its worth.
That review highlights the obvious positives of this Lenovo option, stating that: "this capable Chromebook offers laptop features at no extra cost, making it a great value solution looking to work and play." That's a big thumbs up right there.
The price reduction is no faux, either, as I've been checking out this Chromebook on CamelCamelCamel, the price tracking site, and it's by far the lowest-ever price that the laptop has gone on sale. It's not dropped below £229.99 before now, so this Prime Day sale is a real highlight.