If you're in-between munching down stacks of roast potatoes and are eyeing up some of the best headphones to drown out the noise of the family playing with all their Christmas presents, I have a crackin' Boxing Day deal for you. Indeed, this could be the headphones deal of the year.
The Sony WH-1000XM5, which are widely regarded as the best over-ear noise-cancelling headphones you can buy, have dropped to their lowest ever price. Better than Prime Day deals, better than Black Friday, this is the lowest-ever price the WH-1000XM5 has seen.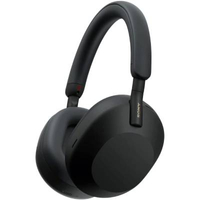 Sony WH-1000XM5: was £380, now £276 at Amazon
No doubt about it – these are the best headphones for the majority of people. Their noise-cancelling tech is superb, they offer a comfortable listening experience, top-tier audio quality, and are now at a price that's worthy of your attention.
Why buy the Sony WH-1000XM5?
I've used and reviewed heaps of noise-cancelling headphones over the years. And while my trusty Bose 700 Headphones are my often go-to, if I had to go and buy a brand new pair of over-ears right now it's the Sony WH-1000XM5 that I'd want to buy (Bose still hasn't brought out a newer version of its headphones, y'see).
That's because the WH-1000XM5 are perfect for travel thanks to their noise-cancelling tech being so powerful. It can really help drown out the buzzing sounds of planes and trains, which is something I really value when on my travels to work or further afield.
Not to mention: the sound quality is second to none, only perhaps rivalled by the Bowers & Wilkins PX7 S2 at this price point, but the British brand's noise-cancelling just can't match up to what Sony offers.
Battery life, too, is strong from the Sony – and that's another reason I'd consider buying brand new headphones this year, because older cans, having been used for years and many dozens of recharging cycles, won't cut it compared to the latest and greatest.
As said in T3's WH-1000XM5 review: "Sony has managed to replace the best all-round wireless active noise-cancelling (ANC) over-ear headphones you can buy with, you guessed it, the best new all-round wireless ANC over-ear headphones you can buy." Sure, we criticised the then-high price, but this deal is what brings these headphones into even greater contention and, for me, make them a must-buy Boxing Day deal for those on the hunt for top-tier new over-ear cans.