If you've ever wondered what the Hero of Time plays their games on, look no further than this stunning Zelda-themed Nintendo Switch OLED. If you want to assemble the Triforce in style, this Zelda: Tears of The Kingdom inspired console is the ultimate way to do it.
The best deal on the console this Prime Day is actually shared between Amazon and very.co.uk on both of which you can pick up the console for £294.99.
It's important to clarify that the game itself is sold separately, but this is in fact the best iteration of Nintendo's console, the Switch OLED. This model has a beautiful 7-inch OLED display and 64GB of storage (compared to the original's 32 GB).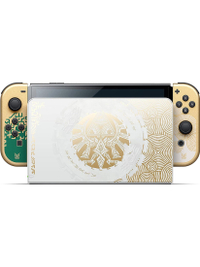 Nintendo Switch OLED Zelda: Tears of the Kingdom Limited Edition Console: was £319.99 now £294.99
Want a console, set of joy-cons and dock that looks sharper than the master sword? This limited edition Switch OLED is the ultimate way to show your love of the Zelda series.

Also available at
Very.co.uk - £294.99

Not only are the Switch and joy-cons themselves emblazoned with an intricate gold finish, but the standout is the charging dock. Featuring the Hylian Crest and the Triforce itself, this dock is the ultimate Nintendo bling. Other special edition Nintendo Switch consoles look cool, but this is next level.
Of course, if you've not played Tears of the Kingdom, start with Breath of the Wild and you'll be in for a double helping of some of the finest games in a generation. The Switch also has a raft of other top titles like Pokemon: Scarlet & Violet and Mario Kart 8 to enjoy as well.
If you're looking for an accessory to match, you might want to treat yourself to the Tears of the Kingdom Pro Controller too. If you're on the hunt for the best Prime Day gaming deals, we've got you covered too.