I remember back in 2019 when I received the Bose Noise Cancelling Headphones 700 – during that meeting I was admiring Jason Statham wandering around a London square below, but that's another story – and was so blown away by the quality of the sound and noise-cancelling ability that, for me, they immediately became the best ANC headphones I'd ever heard.
That message has remained true for me over most of the past 5 years, too, as whilst my job as T3's Tech Editor has ensured I've seen dozens of other pairs of the best headphones for reviewing – and I've been working in technology journalism for 15 years now – it's been the Bose 700 that have remained in my bag as the best travel headphones I've ever owned.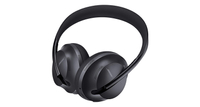 Bose 700 Headphones: was £349.95, now £189.95 at Bose
Bose's flagship headphones, originally released in 2019, still remain a master of active noise-cancelling, design and comfort – and for this almost-half-price deal they're a no-brainer if you want impeccable ANC over-ear headphones for a cut of the price. I'd buy them in a heartbeat.
So it's great news that as part of Bose's own Black Friday deals the Bose 700 Headphones are also hugely discounted. Indeed they're almost half price. Considering that many more recent headphones releases are considerably more expensive, I think that makes them a veritable bargain.
Sure, this year they have been replaced by the Bose QC Ultra Headphones – which I tested for 18 hours on long-haul back-to-back flights – and I've said there's no turning back from these new additions now... but that's because my now years-old Headphones 700 are looking a little worn out.
Okay, so there is a caveat: this deal is for the 'refurbished' version of the Bose 700 Headphones, which means they're sold as new and with the same warranty, but are returned to the manufacturer and, as the name says, refurbed. You can't actually buy 'new-new' Bose Headphones 700 direct as they've ceased to be produced now – and whilst they are in stock elsewhere, you will pay a lot more to purchase (see the widget at the bottom of this page).
So if you're looking for new ANC headphones that are truly exceptional, I must've been using and wearing the Bose Noise Cancelling Headphones 700 for hundreds to probably thousands of hours over the last five years (hence why they're worn). Sure, you could pay much more and buy something even more current with spatial audio compatability, but for under £190 I don't think you can beat this Black Friday deal.