If you're looking for a great MacBook in the Amazon Prime Day sale, this might just be one of the best deals going. The M1 MacBook Air is a few years old now, but that doesn't hold it back.
As the name suggests, you'll find the Apple Silicon M1 chip inside. That's more than capable of handling just about anything you throw at it – mine has torn through photo and video editing, music production and even gaming without breaking a sweat.
Right now, you can grab the Air for its best price ever. A saving of £259.91 sees users snag the laptop for just £739.09 for the rest of the day!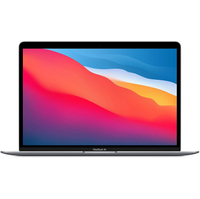 M1 MacBook Air: was £999, now £739.09 at Amazon
Save over £250 on the M1 MacBook Air this Amazon Prime Day. Featuring the powerful Apple M1 chip, this lightweight laptop is a total powerhouse, which is more than comfortable with intensive tasks.
That's a whole heap of tech for the price. The M1 chip is a real monster, and should have no issue tearing through day-to-day tasks like emails and word processing.
As mentioned above, I've even put mine through a host of more intensive tasks without struggle. That's a real testament to the power on-board here.
Plus, thanks to the fanless design, it won't ever make a noise. You might think that's a recipe for overheating, but I've yet to see that on mine. The worst it's ever gotten was lukewarm, and even then it quickly cooled off again after.
The 13.3-inch Retina display is absolutely gorgeous. It's packed with detail to make content look stunning, with vibrant colours that really pop off the screen.
You'll also never need to worry about the battery. Apple rate it for 18 hours, but honestly I've squeezed way more than that from it. It all depends on the tasks you're working on, but if it's simply writing or tackling spreadsheets, it's not going to trouble this device. I've easily gone for a few days with these kinds of tasks without worry.
Right now, the M1 MacBook Air is at the lowest price it ever has been. That makes an already attractive proposition a total no-brainer. At the £999 retail price, I think this is the best value-for-money piece of tech to have ever existed. Picking one up for over 25% less? Now that's a seriously good deal.