If you want to buy a pair of the best wireless earbuds, there really is no better time to do it. It's Amazon Prime Day, which means you're likely to find some top deals on tech.
I've been reviewing earbuds and headphones for the last year and have been a proud – bordering on obsessive – audiophile, for many before that. That puts me in a great position to tell you which pairs are worth buying – and one of my favourites is even cheaper right now!
You can pick up the Nothing Ear (2) earbuds for just £108.99 on Amazon – saving 16% against the list price!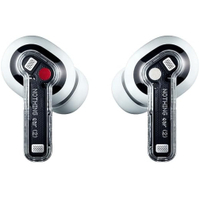 Nothing Ear (2): was £129, now £108.99 at Amazon
Save £20 on the Nothing Ear (2) wireless earbuds. These are some of my favourite earbuds right now, with audio that punches above its weight and a really handy, simple app.
So, why am I so excited about these earbuds? Having tested everything from the ultra-affordable to the eye-wateringly expensive, these are pretty much my yardstick.
They're not exactly affordable, but they definitely aren't expensive – especially with a further reduction right now. For the money they cost, I think you'll struggle to find a better sounding pair of headphones.
The audio is superb, with a level of excitement that is missing in a lot of other models – even more expensive ones! You'll also find a powerful active noise cancellation mode, a truly brilliant transparency mode – I've worn these crossing the street and not feared for my life – and one of the most easy to use apps on the market.
All of that is great, but of course they also need to look good. But come on – this is Nothing! Design is high on the pecking order, and these are really gorgeous looking products.
The buds themselves are sleek and unassuming, with just enough character to be recognisable in an 'if you know, you know' kind of way. The case is relatively minimal – what more would you expect? – but it does the job well. It's also not too cumbersome, thanks to the slim height.
Ultimately, these earned a five-star review when I tested them because they we're really fantastic value-for-money. Now, with the chance to get them for an even better price? Well, that's a dictionary definition no brainer.