When it comes to tech which has genuinely changed the way I live, the Ninja Foodi Dual Zone is up there with the best. It's effortlessly simple to use, and makes it quick and easy to cook.
It's undoubtedly one of the best air fryers on the market right now. The twin compartment design means you can cook two things at the same time. It's perfect for whipping up a meal with various components, without the faff and fuss of doing so in a single oven.
Now you can snag one for even less with this brilliant Amazon Prime Day deal. Get the Ninja for just £159.99 at Amazon – that's a saving of £60!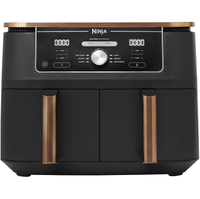 Ninja Foodi Dual Zone air fryer: was £219.99, now £159.99 at Amazon
Save £60 on the Ninja Foodi Dual Zone air fryer this Amazon Prime Day. A perfect fit for your stylish kitchen space.
You'll be getting a truly capable kitchen gadget. Six different cooking modes give you the means to do just about anything you can think of. You can even sync the two cooking zones, to ensure everything is completed at the same time. Or, if you're simply cooking a lot of one thing, match the settings to save time inputting your selection.
Speaking of those cooking zones, each one is 7.6L. That should be comfortably enough for most things – I've even managed to comfortably fit a whole chicken in mine. It's great for cooking for multiple users, but the nature of the device makes it far more efficient when making solo meals, too.
The baskets themselves are non-stick and dishwasher safe, as well. That should make it a doddle to keep clean.
In general, air fryers are far more efficient than a traditional oven. The smaller cooking space means you don't have to waste energy heating places that aren't doing any cooking. That also tends to make them quicker, with more of the energy going to cooking your food. With £60 off right now, there's never been a better time to pick one up.