Memorial Day is fast approaching and offers a great chance to meet up with family and friends for an early-Summer barbecue. If you want to upgrade to one of the best barbecues we've seen recently, you're in luck – Amazon have a great deal on the Ninja Woodfire BBQ right now, saving you $50.
This brilliantly compact multi-function barbecue uses wood pellets to deliver an authentic, smoky taste, but runs on electric for heating. Controversial though that may be, it can save you money in the long run, as you won't need to buy charcoal or gas to keep things cooking.
Buy the Ninja Woodfire BBQ for just $349.99 at Amazon
It's also brilliantly compact, making it perfect for smaller spaces. Our reviewer had no problem fitting it onto a small balcony, delivering authentic barbecue flavours even if you aren't blessed with acres to cook in.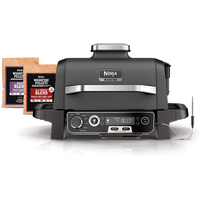 Ninja Woodfire BBQ, was $399.99, now $349.99 at Amazon
The Ninja Woodfire is a total pocket rocket that will transform your barbecuing experience. It's compact enough for smaller spaces, with a whole range of features that make it good for just about anything. Oh, and it makes great tasting food, of course!
It's not just a one-trick pony, either. There are seven settings on the Woodfire BBQ – Grill, Smoker, Air Crisp, Bake, Roast, Broil, and Dehydrate. That makes it a top pick for users who want the best bits of multiple devices in one.
The package on offer right now also comes with a built-in smart thermometer and a couple of bags of woodfire pellets to get you going. That should give you everything you need for a successful day of cooking.
It's also the lowest price ever seen on this model – as confirmed on price tracking website, CamelCamelCamel. Be quick if you want it though – these deals won't last forever, and you'll need to get in soon for delivery before the big day.