Recently, I made the decision to purchase a WaterPik. These devices simulate manual flossing using a stream of high-pressure water to penetrate the gaps between your teeth. It's been one of the best purchases I've ever made.
The device is effortless to use, and fits seamlessly into your morning routine. In my experience, it does a better job, too. The pressure of the water gets into all of the nooks and crannies of your mouth, making sure nothing is missed. Plus, there's no waste. Manual flossing involves a lot of wasted plastic, but there's none of that here.
Right now, you can find big savings on the WaterPik range at Amazon. My pick of the bunch is this WaterPik Cordless Pearl, which is just $49.99 – 29% less than the retail price!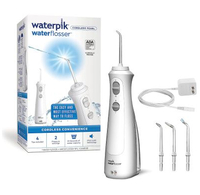 WaterPik Cordless Pearl: was $69.99, now $49.99 at Amazon
Enjoy a fresh feeling with this WaterPik Cordless Pearl. The device uses a jet of water to remove debris from your teeth, making it quick and easy to floss without any of the plastic waste. Plus, it's even cheaper right now at Amazon.
When you're looking for a device like this, the WaterPik name is pretty much as good as it gets. They've been in business for over 60 years, and were the first brand of this kind to receive approval from the American Dental Association in the USA.
The Cordless Pearl model features a rechargeable battery with up to two weeks of charge on board. Plus, with a 360° rotating tip and two different pressure settings, you'll be able to tailor the experience to exactly how you want it. It comes with four different tips, too, allowing you to pick the perfect one for the job.
The reservoir for storing the water will even completely dismount and is safe for use in the dishwasher. That's really handy for keeping the device clean and ensuring you're always getting the clean you think you are.
There's no guarantee this deal will stick around, though, so make sure to act fast if you want to get your hands on one.