With household budgets being increasingly squeezed by the current cost of living crisis, many people are finding themselves avoiding new and expensive purchases. Let's face it, large appliances such as AC units, dehumidifiers and air purifiers aren't the cheapest. Yes, they're pretty great in terms of what they do, but purchasing one isn't a light decision.
In order to help, Blueair has created an affordable solution at a time when awareness of air quality issues is front and centre. After initially launching the Blueair Blue Max range in September, the brand has added another member. The Blue Pure 511 is the ideal entry level product for those beginning their air purification journey on a budget. Equally, it is suitable for homes that would like to benefit from an air purifier in every room while opting to focus on higher spec models for the rooms they use the most.
Before you find out more, why you don't you have a look at our Blueair air purifiers reviews? We've tried out the Blue Pure 411, Blueair Classic 480i and the Blueair HealthProtect 7470i.
Blueair Blue Pure 511: Price and availability
The Blueair Blue Pure 511 has an RRP of £99.00 and can be purchased from Amazon. However, at the time of writing this, it's currently reduced to £89.99! Take a look for yourself: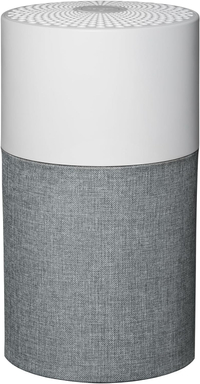 Blueair Blue Pure 511: was £99, now £89 at Amazon (save £10)
Save 10% on Blueair's latest budget air purifier, the Blue Pure 511. It removes at least 99.97% of tiny airborne particles like viruses and smoke down to 0.1 microns, and captures pet dander, pollen, mould allergen and dust.
Blueair Blue Pure 511: features
The Blue Pure 511 has the same high performance air purification credentials as many of Blueair's other models, compromising only on the smart features that will enhance user experience.
HEPASilent technology
Only Blueair air purifiers use HEPASilent technology. The Blue Pure 511 quickly cleans a 16 m² small room in about 12.5 minutes or up to 38 m² space in 30 minutes. For the strongest performance, place it in a smaller bedroom or home office of 16 m² or less.
Filters 99.97% of particles
The Blue Pure 511 removes tiny airborne particles, such as viruses and smoke down to about 0.1 microns in size. It also captures pet dander, pollen, mould allergen and dust. What's more, a carbon filter traps light household odours from smoking, pets and cooking.
Ultra quiet
Believe it or not, the Blue Pure 511 is quieter than a whisper at only 24 dB on low fan speed. That makes it perfect for use in your bedroom, ensuring you'll still get a good night's sleep.
Easy to use and energy-efficient
It has a simple two-button design which makes it easy to control, as well as 3 fan speeds, one of which is night mode. Just like the other models, it uses less energy than a light bulb to run.
Interested in more? Check out these 3 mistakes everyone makes with their air purifiers.