Something unexpected has happened to air fryers. They are now so popular that as Black Friday approaches, they're becoming increasingly hard to find in shops. The two top 'most wished for' products on Amazon UK are air fryers from Ninja – which we actually have found a deal on – and Corsori – which, alas, we haven't.
If you've been looking to add an air fryer into your cooking repertoire, our guides to the best Black Friday deals and – obviously – the best air fryers are good places to start. This Black Friday air fryer deals round up takes a deeper dive. We have deployed a combination of human deals seekers – ie: me – and high-tech VFM bots to ferret out the best deals on the nation's dwindling air fryer stocks.
Before you get too excited, let us be frank: the 'deals' on air fryers are not very impressive so far this Black Friday. There is a selection of models by brands we've never heard of, and cheap air fryers that are now slightly cheaper. But don't worry; we've also found the very best Black Friday air fryer deals – out of an admittedly disappointing batch thus far.
Black Friday air fryer deals: the cream of the crop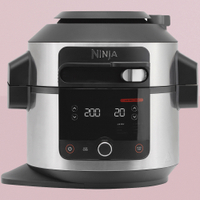 (opens in new tab)
Ninja Foodi 11-in-1 SmartLid OL550UK was £299 now £219
(opens in new tab)Hold onto your hats: I have found a Ninja air fryer with actual money off. It's actually an Instant Pot-style multi-cooker – see also: the Duo Crisp further down this page. So you can pressure cook, slow cook, bake, roast and five other things, as well as air frying. The capacity of 6 litres isn't bad, and it's very well designed and gives great cooking results.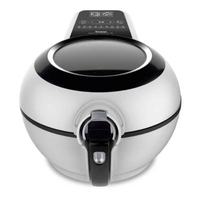 (opens in new tab)
Tefal ActiFry Genius XL: £249, £148 at Very (opens in new tab)
Get the Tefal ActiFry Genius XL Air Fryer for under £150 in this Black Friday deal. Air fryers are in high demand this year and the Tefal ActiFry Genius XL does it all with its 9 auto cook functions.
Black fryer air Friday deals: the best of the rest
Perhaps it's not so surprising that air fryers are selling out across the board. Not only are air fryers energy efficient – an essential feature in a cost of living and energy price crisis – but they do also make very tasty meals, quickly and without the need for large amounts of fat. This has led to a hype wave that's seeing them stripped from the shelves of Amazon, John Lewis, Currys et al. There are some more deals to be had however. Let us help you navigate this shopping minefield, this Black Friday week.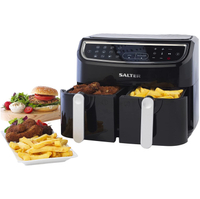 (opens in new tab)
Salter EK4548 Dual Air Fryer £189
(opens in new tab)If you want a cheap dual-zone air fryer that's just like the Ninja Foodi Dual Zone but a bit crappier, this Salter could be the answer to your prayers. Salter stuff always looks a bit basic but tends to be very well made and great value for (not much) money. However, this model has gone up in price by £40 now it's back in stock.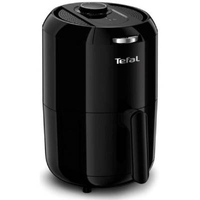 (opens in new tab)
Tefal Easy Fry EY301840 Air Fryer: £94, £75 at AO.com (opens in new tab)
Save £19 on the Tefal Easy Fry Air Fryer at AO.com. Now under £80, this air fryer is ultra compact and creates healthy fried meals using little to no oil. Perfect for small kitchens.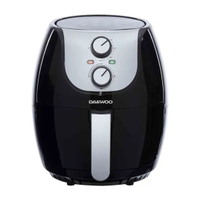 (opens in new tab)
Daewoo 4L single pot air fryer: was £119.99, now £59.99 at Robert Dyas (opens in new tab)
Save £60 – This simple air fryer is ideal for quick meals and dishes, from chips to chicken (though not a whole one). Features temperature and timer settings and a removable basket for easy cleaning.
Some of the best air fryers to look out for this Black Friday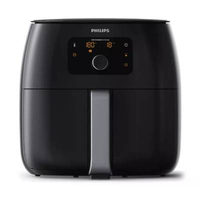 (opens in new tab)
Philips Airfryer XXL (opens in new tab)
The Philips Airfryer XXL makes frying food easy, quick and healthy. Voted the best air fryer by T3, this model has plenty of preset modes, so you can grill, roast, bake, air fry and bake a variety of foods. This super-sized model has a great capacity and can even fit and roast a whole chicken!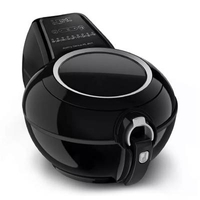 (opens in new tab)
TEFAL YV970840 Actifry Genius XL 2in1
The TEFAL Actifry Genius XL 2-in1 is a handy appliance that doubles as an air fryer and slow cooker, with the ability to make meals like curries, stews and casseroles. Whatever meal you want to cook, the TEFAL Actifry has you covered, with a built-in stirring paddle and recipe app.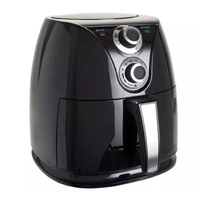 (opens in new tab)
Wilko 4L AirFryer
The Wilko 4L AirFryer is an affordable model that's simple to use and easy to clean. While the cheap price tag might throw you, the Wilko AirFryer has a generous 4 litre capacity, dials to control heat and time settings, and light indicators. With 1400 watts of power, you're getting a powerful model at a great price.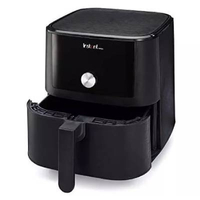 (opens in new tab)
Instant Vortex Air Fryer
The Instant Vortex Air Fryer creates healthy versions of your favourite food, with 95% less oil and fat. With 4 pre-set programmes in 1 appliance, you can air fry, bake, roast and reheat different foods, including meat, vegetables, chips and cake. The design is super simple so you can easily control and customise it with one-touch settings.
(opens in new tab)
Breville Halo Rotisserie Air Fryer
The Breville Halo Rotisserie Air Fryer has a 10-litre capacity, glass door and shelves so it acts as a really small fan oven. Cooking functions include air frying, baking, roasting and dehydrating. With 'rotisserie' in the title, it's unsurprising that this air fryer comes with a spit for chickens and a rotating drum for chips and fries.
Why you should buy an air fryer
Air fryers, despite their name, are basically compact and energy efficient ovens that blast food to delicious crispness by using a high-powered fan to blast foods with hot air, in a compact cooking space. As a result, an air fryer can act as your oven and grill for roasting, baking and reheating leftovers, as well as various other functions on the more high-end models. What they can't do is really 'fry' food, which makes their name slightly odd. Ignore that though: air fryers are great.
Top air fryer brands include Tower, Cosori, Philips, Ninja, TEFAL, Instant Pot and Sage. The hype around Ninja air fryers in particular is rampant right now, and deservedly so. If we track down any further deals on these brands we'll let you know. We'll also do our best to appraise the merits of air fryers made by brands who we have never heard of, such as Yenssong, Dihl and MisterChef. Where does Amazon find these brands?