We're officially back in deals season once again. Amazon's brand new Big Deal Days promo is here and it's bringing with it some great prices on five-star tech, but it's not the time to overlook the company's own services.

Amazon Music recently introduced four new upgrades for users and it looks like the company has that number on the brain as you can now also get four months of its Spotify rivalling music streaming service for free.
If you sign up for the service in the next two days, Prime Members can see out the year with free music for four months, while those without Amazon Prime can still enjoy 3 months of unlimited ad-free streaming. After this trial, you'll have the option to continue your subscription for £10.99/$10.99 a month or £9.99/$9.99 if you're a Prime member.
Considering a regular Prime subscription also gets you access to the excellent Amazon Prime Video, you could have Amazon sort out both your audio and TV streaming at a compelling price.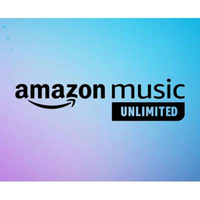 Amazon Music Unlimited: £10.99/£9.99
If you want a whole world of music with top-quality audio then Amazon Music Unlimited is one of the best out there. It has over 100million tracks and podcasts as well as HD Spatial Audio. If you are a Prime subscriber you can get the lower £9.99 a month price and a free four-month trial!
Of course, you do also get access to the standard Amazon Music for free with a Prime membership, so what's the difference between that and the Unlimited subscription plan?
Well aside from a larger library of songs, you'll also get ad-free playback with unlimited skips, but the biggest draw is something that Spotify still doesn't offer with any of its plans. HD and Spatial audio. This is an audio revelation that really makes the most of your audio setup, whether it be one of the best soundbars, or a surround sound system.
Of course, after the free 4-month trial, you'll be signed up for the service on a monthly plan. You can however cancel anytime so if you keep an eye on your subscription you could be listening into the new year for nothing.