If you're in the market for a brand new wireless home speaker then I've been fortunate enough to review some of the very best over the years. But the one that I'd most highly recommend is the 5-star Sonos Era 300. Which, thanks to Amazon Prime Day deals, is at its lowest-ever price in the sales.
Indeed, the Era 300 won some serious accolades this year, including Product of the Year and Best Wireless Speaker at the 2023 T3 Awards. The product only arrived to market about three months ago, so to see any kind of price drop at this stage is a rare thing indeed – especially as Sonos products typically don't see price reductions of great significance.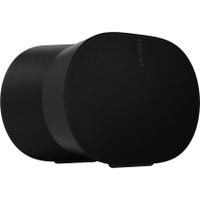 Sonos Era 300: was £449, now £424.99 at Amazon.co.uk
The best wireless speaker of 2023 and winner of not one but two T3 Awards gongs is the one and only Sonos Era 300. And now it's discounted by a most welcome 5% for Amazon Prime Day, making it even cheaper than Sonos' own webshop price.
The price reduction might not seem like the biggest drop ever, but I've been checking out the Era 300 on CamelCamelCamel, the price tracking site, and this is by far the lowest-ever price that the speaker has been on sale for on Amazon. That £25 saving isn't to be overlooked!
It's quite rare for Sonos to release new products, too, with its previously established Five being the go-to wireless home speaker to consider. As pointed out in T3's review, however, we prefer the smaller scale of the Era 300, while also praising the "incredible sound" and "next-level Dolby Atmos support". It's a truly great-sounding speaker.
You can buy it in a choice of black or white, keeping the visuals nice and classy, and while the shape might not be for everyone – I really like the look though – and you will need an adapter if you want to run a wired product into the speaker, for wireless music fans this is as good as it gets in 2023. Which makes the Sonos Era 300 one of my top Amazon Prime Day picks this year.