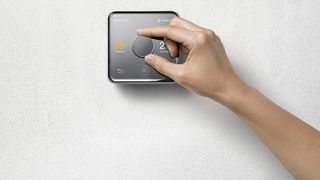 Best smart thermostats...
If there's one piece of smart home technology that will make a difference to your life, it's the smart thermostat.
Until recently, was there a more uninspiringly dull household item than the thermostat? All that ugly white cheap plastic and incomprehensible programming buttons.
Clearly a design revamp has been a long time coming, and as far as most punters are concerned, it arrived with the Nest Learning Thermostat and British Gas' original Hive.
The app-accessible integrated heating system was now a reality, with - at least in theory - no more complicated programming interfaces, no more coming home to a freezing house with burst pipes, water all over the carpets and a massive repair bill, and no more waking up in a fridge when the temperature plummets.
Most smart thermostats also work with a wider range smart home devices, allowing you to create some automated processes in your home.
Used cannily, most of the smart thermostats featured here should save enough in energy costs to pay for themselves within a year or two.
You can even get some units discounted through your energy provider - British Gas will install Hive for free (you still buy the unit, but there's no installation cost), Npower will flog you the Nest for just £129, and EDF Energy will install the Netatmo for £199.
Time to turn up the heat…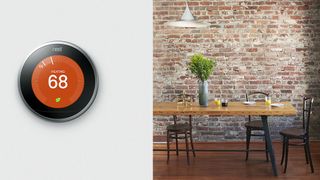 Nest Thermostat • £199
Nest takes Apple-like care in the design of its products - hardly surprising as it was set up by ex-Apple people. This is most evident in the way it turned the common and extraordinarily ugly smoke alarm into something that's actually rather attractive.
The same ethos was originally applied to its thermostat, which kickstarted the smart thermostat gold rush, and clearly informs Hive's move from its functional but dull original incarnation to the Yves Béhar-designed, red-hot sex box found later on in this gallery.
The Nest monitors the user's habits and will control the heating accordingly. So for instance, if you regularly go to bed at, say, 11pm, the system will learn your behaviour patterns and turn the system off when necessary. It's easy to program an on/off schedule using the excellent Nest app but this might not even be required since the unit also has activity sensors on board so it can detect if no-one's home and adjust/turn off the heat accordingly.
The circular glass interface, meanwhile, is a beautiful thing to behold and so incredibly simple use; all you require is an opposable thumb and a forefinger. The Nest Thermostat comes with everything required to fit it DIY style but you'd be far better off having an engineer do it, especially as the £249 price includes installation. It's my hot pick.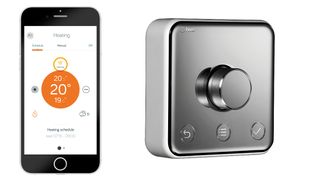 British Gas Hive • £249
Given that Hive is a British Gas innovation, chances are this is the thermostat you'll most likely be using. And very good it is, too. The Hive system is fitted by a qualified engineer and incorporates three pieces of kit: a boiler receiver, an internet router hub and a wall-mounted thermostat.
The thermostat itself may not be quite so handsome as the Nest, but it's ridiculously easy to use, as is the accompanying iOS and Android app, which lets you change the temperature or the on/off schedule from anywhere there's a cellular or wi-fi connection.
The app is is a joy to use and also encompasses the wherewithal to control future Hive smart home products, including light bulbs and plug sockets. Safe choice.
Hive has also now released a range of compatible products, including a motion sensor, window/door sensor, and smart plugs. Which is pretty helpful if you want to dip your toes into smart home waters.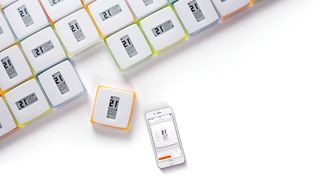 Netatmo by Starck • £199
Netatmo, the French company that revolutionised the home weather station, has employed the services of product designer and Frenchman Philippe Starck to create its take on the humble thermostat.
And here it is, a translucent plexiglass cube with a simple display. Given that it's designed by one of Europe's foremost creatives, The Netatmo's old-fashioned black E-Ink display and white casing is a little bit, er, ordinary, especially when placed alongside something like the Nest. But hey, looks aren't everything. Netatmo predicts its thermostat will save the average user about 37% in energy costs, so that's a bonus.
Again, everything here is controlled via the free Android and iOS app and set up is a doddle. On initial installation, it'll ask you five simple questions and then create a schedule based on your lifestyle. Another very cool feature is that the thermostat itself can be installed in two ways: as a wired replacement for your current unit or wirelessly, using three AAA batteries. The wireless option allows you to place the thermostat in any room which is handy if you use one room more than the another.
The Netatmo is also one of the cheaper options here, though it's not as well equipped as the marginally more expensive Nest, and IMO, not as pretty.
The Netatmo works with EDF Energy's HeatSmart, which is available for £199 including installation.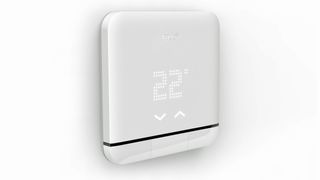 Tado • £199 + installation
The Tado (or tadoº, to give its 'proper' name) smart thermostat connects to a wider range of heating systems than Nest. In fact, it works with 95% of current heating systems, whether a combi or conventional boiler, or an electric under-floor setup, and can also control your hot water. As with most smart thermostats, installation is best carried out by a qualified engineer.
So what's so good about this model? It's smart enough to learn about the layout of a user's home and soon has the specific heat capacity of your house worked out, so if you want it to be 18 degrees at 7am, it'll fire up in advance if needed.
Arguably the real killer feature is Tado's use of geofencing, though. By tracking the proximity of your mobile, when it detects you're on the way home, it can turn up the heat so it's toasty on your return.
The app is programmable, like a normal thermostat, and can be manually overridden when required. It also displays all kinds of information about your energy use, although the key money-saving stats are dependent on your input, a bit like calorie tracking with a fitness band.
As well as the £199 unit price, there are other extras to consider, including an Extension Kit (you'll need this if your current system has no wired room thermostat - that's true of most modern systems or a set of smart radiator valves.
Initially the Tado suffered from serious connectivity issues, requiring regular reboots via the, admittedly efficient, German helpline. However, these have now been mainly resolved by a series of software updates. With a more stable system we've been disaster-free for several months now, and the geofencing ability has proved a very handy one indeed for any household that doesn't run to Victorian-style railway timetables.
Testing and additional words: Mark Mayne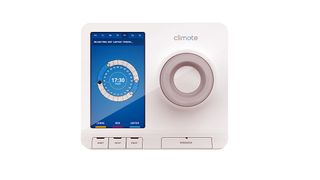 Climote • £299
Don't underestimate this system. Unlike most app-controlled thermostat set ups, Climote can control three zones at once, straight out of the box. And it doesn't rely on a broadband connection either because, rather like the Kindle, a SIM card is embedded into the device which allows for communication over GPRS.
Furthermore, you can control the system remotely in three different ways, either using the instinctive iOS/Andoid app, via a browser or, get this, from a bogstandard unsmart phone; you know, like that old QWERTY Nokia you still have in your kitchen drawer.
Mind, this remote access service does cost €3.69 per month which could be a spoiler for some. Installation by a Climote-endorsed engineer takes a purported 30 minutes and that's pretty nifty.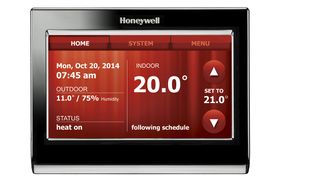 Honeywell Voice Controlled Thermostat • £239 + installation
The highly regarded Honeywell remote-controlled heating system now adds generally reliable voice control, very simple setup and built-in Wi-Fi to its arsenal of features.
As with any smart thermostat system, you can control everything from your smartphone from wherever you are or use Honeywell's touchscreen controller, which also shows you the weather outdoors, or simply bark instructions at it, like a future guy.
If you don't fancy talking to inanimate objects, you might consider Honeywell's other connected thermostat, which is about £200 and part of the Evohome system. This is more sophisticated, and intended to be used with a house-wide smattering of smart radiator valves (£200 for four) that allow you to set individual room temperatures.
The big advantage of a system like this is that you won't be wasting energy funds on heating rooms you rarely use - especially handy for those with large houses. Initial costs are inevitably rather high, however.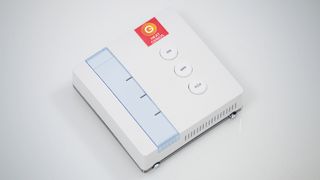 Heat Genius • From £250 + installation
Sexy it is not, but if you want full heating control of individual rooms and budget isn't a concern, you might consider this all-singing wireless system.
The app-controlled Heat Genius is more complex than the Nest, Hive or Tado so fitting it yourself isn't really an advisable option. The system comprises a Heat Genius controller that plugs into your Wi-Fi router, a boiler controller and a portable wireless thermostat that can be moved from room to room.
For full individual room control, Heat Genius also installs a TRV (thermostatic radiator valve) on each rad so you can create different schedules for different rooms. And if you fit the optional wireless motion sensor-cum-thermometer, the system will also detect whether you're in or out, and create its own set of schedules accordingly.
The Heat Genius system isn't cheap – the basic kit without radiator valves and room sensors costs £250 – but the claimed savings of as much as 50% a year in heating bills do make it tempting for well-off owners of larger homes.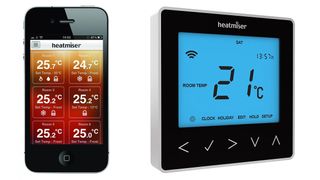 Heatmiser Neo • From £199 + installation
This zonal system is similar to Heat Genius only it's fully wired which means a) installation should be carried out by a pro and b) your walls will likely need to have conduits installed. Like Heat Genius, this app-enabled system offers fully zoned heating and full geofencing so it'll turn on when it detects you're approaching home.
It's a much more baffling system to get one's head around, mind, since there's a bewildering assortment of different mix-and-match options available. In this respect you're advised to contact Heatmiser direct to discuss your needs.