The best camping mat depends on what your priorities are. There are a huge number of camping mats on the market, ranging from downright enormous inflatable mattresses, down to featherlight creations that look barely capable of supporting a human weight. The key things to look for when choosing a camping mat are type, R value, and weight and bulk when packed. 
Broadly, there are two camps of camping mats – the inflatable or self inflating, and the closed cell foam type of mat (and if you're looking for something more substantial than that, you should head to our guide to the best camping beds). Both have their pros and cons, but typically we'd say the best camping mat for multi-day trips is an inflatable one. In the next section you'll find a more thorough breakdown of the different types of mat.  
The R value you tells you how warm the mat will be to sleep in. The main use for a camping mat is to keep you insulated from the ground – which even in summer is pretty chilly and can conduct heat away from your body. The higher the R-value, more insulating it'll be. Broadly, an R value below 2.0 is for summer use, 2.0 to 4.0 will suit 3-season use, and if you're heading out in winter, look for 4.0 or above.
How heavy and bulky your mat is when packed is a key factor if you're planning on carrying the mat around. You'll want something you can either fit in your backpack, or can be strapped to the front. (To that end, if you're backpacking, you might want to invest in one of the best lightweight sleeping bags to go with your mat.) Read on for a closer look at the two main mat types, followed by our pick of the best camping mats to buy now.
Best sleeping mat: foam vs inflatable 
Inflatable or self-inflating mats are the best camping mat choice if you're off on a multi-day trip, as they're typically much more comfortable when inflated, and pack down smaller when not in use – you'll be able to pop them inside your hiking backpack rather than strapping them to the outside. There is, however, always a slight risk of puncture (choosing a pricier model is always a good idea here).
Choosing an inflatable camping mats can be a complex task, as the various materials and construction make a huge difference to the insulation they dish out – yes, even from two mats that look very similar. As usual, the cheaper the mat the less insulation you'll probably get, and be sure to check the R-value. 
Simple foam camping mats shouldn't be dismissed entirely though. They're both cheaper and more robust but less comfortable than their inflated brethren. In fact, they're pretty much indestructible, so ideal for festival use or trekking in particularly rugged terrain that would slice an inflatable to shreds. While bulky, they're very lightweight, and totally unbothered by getting wet, too. There's also the issue of them just not being very comfortable, too. 
Best camping mats 2021 to buy now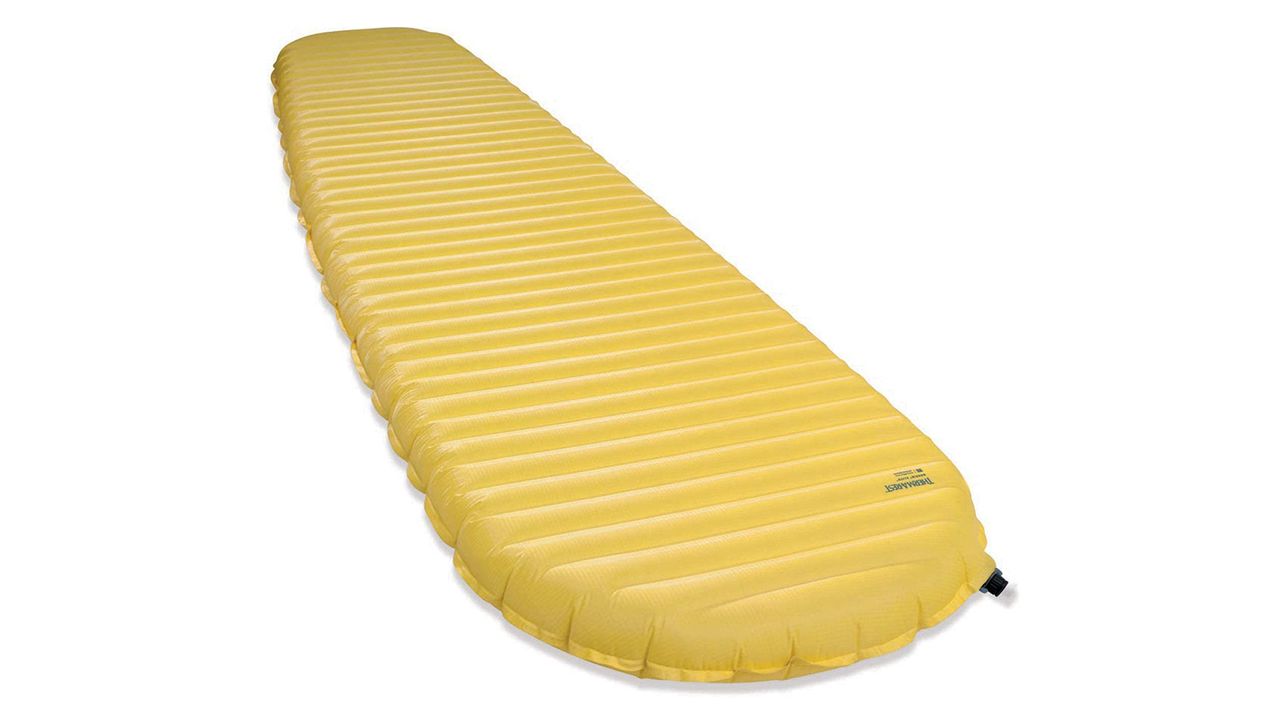 For all-round performance in all seasons, the best camping mat is the Thermarest NeoAir XLite camping pad. It's extremely lightweight, packs down tiny, and is very well-made. The sleep surface is firm yet supportive sleep surface, and will keep you safely elevated from bumpy ground, even if you like to sleep on your side. We found this mat provides excellent insulation even in cold weather, but if you tend to get very cold, consider the warmer, heavier Thermarest NeoAir XThem further down the list. The XLite comes in a range of sizes available to suit taller, shorter, and wider campers. The price means this one is for dedicated wild campers and multi-day hikers – casual campers will be able to get away with something simpler and cheaper. Head to our Thermarest NeoAir XLite camping pad review for more info.
Next up in our best camping mat ranking is the Trekology UL80. This ultralight sleeping pad is super thick and cushioning when inflated, but packs up extremely compact to be slung into a packpack during the day. As well as being thick enough to provide a comfy sleep surface and keep you well away from the bumpy, cold ground, the surface is slightly curved up at the edges to keep you positioned towards the centre and reduce the chance of you rolling off in the night. It's also slightly longer than standard, making it a good choice for taller campers.
The Trekology UL80 made from 40D nylon with a water-resistant coating, and while it worked perfectly well in our tests, to the touch it does feel like there might be more robust fabrics if you're willing to spend more. There's a one way valve that makes it simple to blow up manually – it's not the fastest to inflate this way, but still very manageable. Alternatively you can deploy a pump sacks or standard electronic pump to do the job a bit quicker. It deflates quickly and packs up easily into the provided carry bag. 
It's not the most insulating in our list, but the 1.6R rating will do the job for warmer weather excursions (Trekology says it's suitable for 35.6F or 2C and above). If you're looking for a lightweight yet cushioning mat that won't break the bank, this is our top pick. Head to our Trekology UL80 sleeping pad review for more info.
The Nemo Tensor in 'regular mummy' size packs a vast list of technology into a tiny and lightweight packsize, delivering a robust R-value of 3.5 but only weighing you down with 410g (minimum) or 490g (packed). The reason for that 80g difference is the generous inclusion of a repair kit, strap, stuff sack and Vortex pump, some of which could be left at home for the gram-conscious. That R-value is plenty enough for UK winter camping, making this an excellent all-year round mat without a significant weight penalty to drag around all summer. 
The R-value is achieved in part by layers of metalised film to reflect heat, as well as a downright luxurious three-inch loft, truly impressive in a mat that packs down to 20x7.5cm. Nemo claims the suspended film reduces noise from the pad when the sleeper moves in the night, which is certainly an issue with other brands. That Vortex pump plays a role here too, as it means the mat can be inflated without blowing directly into it, which adds heat-conductive moisture exactly where you want it least. 
Overall, the Tensor is one of the lightest and most packable mats on the market, and with a range of sizes to suit all requirements, you'll be seeing plenty of these on campsites and crags through summer and beyond.
Next up in our ranking of the best camping mats is the Alpkit Cloud Base camping mat. Don't be fooled by that impressively grooved design, this mat packs down just as small and light as the best lightweight mats around. It's much cheaper than others on this list, but punches well above its price tag in terms of performance and comfort. It's not insulated, so for cold-weather adventures you'll want something different, but for everything else it's a great choice. Head to our Alpkit Cloud Base camping mat review for more info.
The compact and lightweight Exped SynMat UL (ultralight) mat is popular for a reason: it stuffs down small, is very lightweight and impressively comfortable. Packing down to around the size of a one-litre water bottle, we haven't come across many mats more compact than this one. Despite the small packed size, it's a chunky 7cm thick when inflated, which will be comfy even for side sleepers. It's also quiet to kip on – no crinkly fabric here. The 3.3 R rating will keep you warm for three season use. On the down side, in our Exped SynMat UL review we noted it was a little fiddly to pack up and although our reviewer's mat performed well in tests, we found the fabric didn't feel quite as robust as other mats we've tried (a small repair kit does come included). Note also that there are several versions of this mat, so do double check size and R rating to make sure you're buying the one that matches your needs.
No camping mat list would be complete without the game-changing Therm-a-Rest Z-Lite. The egg-box style dimpled foam not only gives you the maximum comfort, but also folds down smaller than you'd believe. It is also totally and utterly indestructible, short of dedicated chopping up or incineration, thus ideal for rough-and-ready mountaineering. Sure it packs down to something about the size of a house brick (and weighs a reasonable 410g), and might not be feather-bed comfy, but it is keenly priced and deservedly popular. Double it up with a more expensive self inflating camping mat for the ultimate outdoors snooze.
The JW Trail Mat Air is a worthy choice here, weighing in only slightly more than the Thermarest Neoair, at a relatively light 490g, and with a lightweight but respectable R-value of 1.8. However, the Trail Mat has several tricks up its sleeves, packing down to an intensely small 22x10cm thanks to the welded air chamber construction. This design relies on lots of interconnected pockets to keep you comfy overnight, so air can flow around to support your position – also without the rustling noises of some competitors. Another innovation is the dual-valve setup, allowing faster inflation and deflation of the complex matrix of pockets. Lightweight, packable, fast and quiet, the Jack Wolfskin Trail Mat Air is well worth a look for 3 season adventures where weight and space are at a premium.
The Kelty Cosmic delivers a fair bang for buck, especially given the sub-£60 RRP, which is nearly half some of the other mats here. The high points are a pretty storming R-value of 4, seeing you right in pretty much any seasonal camping scenario, and robust build quality – the brass valve and 20D Nylon ripstop both bearing this out. 
Another little trick (somewhat of an old-school one) is that the Kelty Cosmic is self-inflating – simply unroll, unscrew the valve and get on with your evening. A few minutes later the foam will decompress, and the mat will only need a couple of breaths to be snooze-ready. Unfortunately this style of pad tends to weigh a little more than the ultralight inflatable options here, weighing in at 560g – no heavyweight, but still a considerable difference. 
As an all-season mat at a very sensible price, it's hard to fault the Kelty Cosmic, especially for DoE-type expeditions where high-end equipment isn't appropriate, or causal campers who'd like plenty of insulation even in warmer weather. 
The Therm-a-rest NeoAir XTherm offers premium insulation at a premium price, knocking out an epic R-rating of 5.7 and weighing in at a featherlite 430g. This makes it the best camping mat for winter or higher altitude walking adventures, where weight and warmth are big factors. You'll need to blow it up to reach its full 2.5inch depth, which will take quite a few puffs, and being inflatable it is at risk of puncture if treated badly (a repair kit is included). As with the other NeoAir mats, the material does rustle when slept on, so a tolerant tent mate is a must, or at least get them to pack some quality earplugs.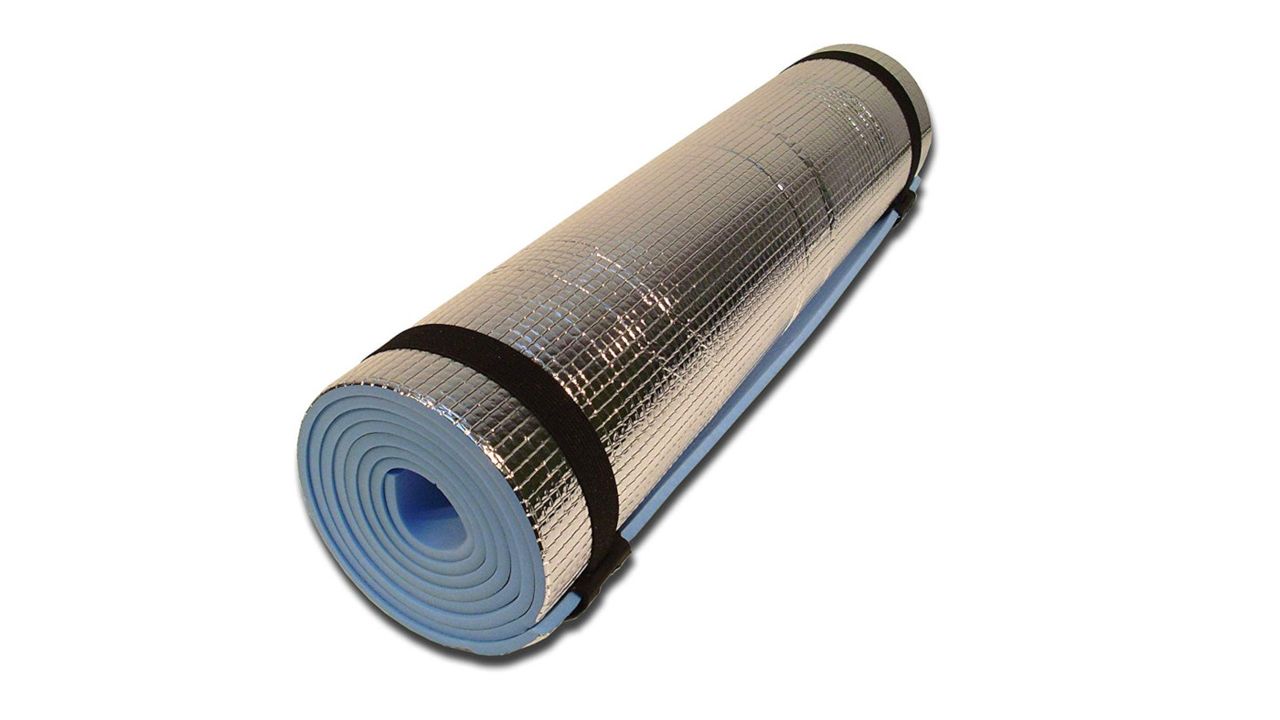 Although any of these camping mats will do a fine job in any outdoors sleep scenario, sometimes you want the cheapest possible tool for the job. That's especially the case when it comes to festival camping gear. You also don't want anything complicated in that type of situation, which is where the fuss-free Yellowstone Insulated Foam Mat absolutely smashes it. Under a tenner and idiot proof (unroll, lie down), this camping roll mat is not only extremely wallet-friendly, but also handy for any other casual camping occasion. 
Indeed, paired with a more expensive inflating camping mat and this will make a decent temporary bed for very little cash. Just remember to use it foil side up for maximum insulation and protection from the ground.