When it comes to styling your hair, the easier it is, the better. Nobody wants to be spending more time than they have to styling their hair in the mornings, especially if you've got to be in the office or dropping off the kids at school. Yes, you can spend upwards of twenty minutes using the Dyson AirWrap or following each step if your haircare routine, but is it ideal? Probably not.
However, one hair care tool that's rising in popularity is the straightening hairbrush. The best examples straighten and brush your hair simultaneously, cutting any unnecessary styling time in half. A number of decent brands, such as ghd and Babyliss, have released their own versions, with many of them taking top spots in our best straightening hairbrush buying guide. However, it's Shark that has now stolen the spotlight.
The brand introduced two new products to its hair care line up in August, the SpeedStyle and SmoothStyle. Both tools came in in succession of the hugely popular Shark FlexStyle, known for its incredible power and styling results. Up until recently, the two new tools were only available in the US, but have now also fully launched in the UK. It therefore came down to us to review them, starting with the SmoothStyle itself.
Before you find out more, are you thinking of completely revamping your hair care routine? Check out T3's guides to the best hair curlers, best hair straighteners, and best hair dryer if so.
Shark SmoothStyle Hot Brush & Smoothing Comb review: Price and availability
There are two different purchasing options with the Shark SmoothStyle. You can buy the brush by itself for an RRP of £99.99 or it can come with a storage bag for an RRP of £119.99.
However, Shark recently released its Black Friday deals and the SmoothStyle was included! Take a look: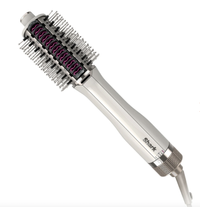 Shark SmoothStyle Hot Brush & Smoothing Comb: was £99.99, now £79.99 at Shark (save £20)
Shark SmoothStyle is the all-in-one styler for wash-days and every day in-between, combining a hair-drying brush with a straightening tool. In Wet Hair Mode, dry and volumise just-washed hair in one step, with no heat damage. Twist to Dry Hair Mode to smooth, refresh and shape, with a Heated Smoothing Comb for a healthy-looking, voluminous finish. Simply twist the base to change modes in seconds.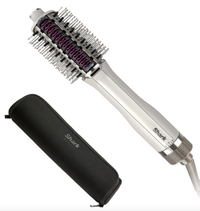 Shark SmoothStyle Hot Brush & Smoothing Comb with Storage Bag: was £119.99, now £95.99 at Shark (save £24)
Whether you're travelling to a holiday destination, glamming up for a special occasion, or getting ready for a night out with friends, this gift set includes a storage bag so you can easily take SmoothStyle wherever you go.
Shark SmoothStyle Hot Brush & Smoothing Comb review: Unboxing and set up
As soon as you open the SmoothStyle box, you're greeted with a very welcoming Quick Start Guide. I really loved this as it provides a clear place to start without having to look through any instructions or trying to work out the tool by yourself. There's also a QR code available to scan if you're looking for further styling tips and video tutorials. These can be found on YouTube (Wet Hair Mode and Dry Hair Mode) if you fancy having a look.
Unboxing the actual tool itself was very simple, coming in just the one piece. I also found a Styling Guide, Quick Styling Tips and a Safety Instruction Booklet, so I couldn't have been more prepared to start using it!
Shark SmoothStyle Hot Brush & Smoothing Comb review: Design and Features
The Shark SmoothStyle has two styling modes, Wet Hair and Dry Hair, for well, styling wet and dry hair. Wet Hair Mode is intended for wet-to-dry volumising with no heat damage and Dry Hair Mode is suitable for straightening, aligning and smoothing. You just have to twist the handle to pick the desired mode, and voilà!
The Wet Hair Mode is pretty self explanatory, drying your damp hair using heated air. It also comes with a combination of boar bristles and nylon bristles which detangle and volumise as you brush, creating root-lift and volume for a full-body finish.
Dry Hair Mode acts a bit like a thermal brush and just has the one preset heated smoothing comb setting. The comb has ceramic-coated plates, which are aimed at reducing heat damage, heat to 215°C to smooth frizz. The plates are also covered by black 'teeth' that prevent you from accidentally touching the plates. Ceramic-coated plates are particularly great for those with damaged, dry hair since they don't get as hot as other types of plates and provide even heat distribution. The heated smoothing comb setting is off in Wet Hair Mode and on in Dry Hair Mode. There's a small light that becomes yellow when heating up and then turns green when ready to use in Dry Hair Mode.
It's not obvious what the different modes are on the SmoothStyle's handle so you definitely have to give the instructions a quick glance over before you use it. You come across the Wet Hair Mode first which has three different temperature settings, and then the Dry Hair Mode has just the one at the end. It's very easy to just twist the handle between each setting, depending on what you're going for. There's also a Cool-Touch Tip which allows you to hold on without burning yourself, giving users more control during styling.
One thing to note is that the SmoothStyle is very large and bulky. If you decide to purchase the option with the storage case, then it may be a little easier to tuck away. However, it is a slightly awkward size without it.
I remember dropping my curling tongs on my bare legs when I was about 17. Yep - it was horrid. So, the fact the SmoothStyle comes with a safety wrist strap is always a welcomed feature.
Shark SmoothStyle Hot Brush & Smoothing Comb review: Performance
To get a full experience of the Shark SmoothStyle, it was important to try out both the settings to find out how they exactly work. It's important to note that I've got long, straight hair that goes a little frizzy if it's not blow dried properly. As annoying as it is for me, it's ideal for testing out hair tools, particularly hot brushes or straighteners.
On my first day of testing the SmoothStyle, I washed and conditioned my hair and then let it air dry until it was about 70% dry and 30% wet. This is what Shark recommends for the Wet Hair Mode so I wanted to replicate that advice exactly. After turning it on and heavily applying heat protectant spray, I gave each of the three temperature settings a go. Whilst the lower temperature settings are good for reducing the risk of hair damage, it was clear that the highest setting was the only way I was going to get my hair dry. After combing the brush through, it probably took about ten minutes before my hair was completely dry. I ended up flipping my hair over a lot to make sure I was drying my roots as well as the ends, which gave it a nice amount of volume. However, I also found that I had to be careful not to go over the hair that was already dry as it was giving it a static look. When my hair was completely dry, there's was noticeably a difference and it did look a lot smoother than if I were to have blow dried it.
A few days later, I tried out the SmoothStyle's Dry Hair mode by washing and then air drying my hair that morning. When ready, I placed the comb under my hair section at the roots and rotated the brush to my hair passed through both set of combs. I immediately noticed that my hair didn't grip onto the ceramic-coated plates (those are the pink and black ones) in the same way the brush did, which made it hard to judge whether it was actually doing anything to my hair. After a little while, I noticed the static look reemerging, essentially doing the opposite of what it was supposed to. It was safe to say I was not a fan by this point and kind of wished I had just stuck to my straighteners?
Shark SmoothStyle Hot Brush & Smoothing Comb review: Verdict
Whilst the Shark SmoothStyle Hot Brush & Smoothing Comb works well to dry, volumise and style hair, the overall function and look of the tool is somewhat disappointing. The Wet Hair Mode takes quite a long time to dry and volumise hair, depending on how much you have. The Dry Hair Mode has attractive hair protection features, but again, doesn't smooth hair as you'd expect it to. It's also large and bulky, making it awkward to store or pack in luggage. That being said, it is an affordable hair care tool and would be a good option for a quick styling refresh in the mornings or on the go.
Shark SmoothStyle Hot Brush & Smoothing Comb review: Alternatives to consider
If you're looking for a bit of volume and want to tame the flyaways, then the GHD Glide Hot Brush is a great alternative. Whilst a little pricier than the SmoothStyle, it's designed to give you a smooth look that lasts for days, and has a combination of long and short bristles which help to manage all hair types. It also comes in three gorgeous colours!
Another alternative would be the BaByliss Big Hair Care Hot Air Styler. It's priced at a very reasonable £70 and comes with ionic technology and a rotating barrel to help you achieve the bouncy blow dry look. It has protection sensors to ensure your hair remains healthy and full of shine and the large barrel makes it easy to tame even the thickest and longest hair. Unlike the SmoothStyle, this styler is better for those who like it straight but not too straight, especially if you like to add a flick or tuck at the bottom for extra volume.
Have you ever wondered what temperature you should be styling your hair at? It's lower than you think!