There has been a boom in electric scooter popularity in the last couple of years, with a huge number of people looking for convenient, environmentally friendly, and, most importantly, cheap ways of getting around – allowing riders to cut out car journeys and public transport. The Riley RS1 is one of the most affordable electric scooters on sale today, so could be perfect if you're looking to save money.
The RS1 takes a back-to-basics approach to battery-powered e-scooters, featuring a convenient folding mechanism, low weight and removable battery that makes it very easy to live with.
We've reviewed it for our best electric scooter guide and think it could be one of the best cheap electric scooter deals around. Yes, there are cheaper e-scooters around, but we'd say this is probably the least you'd want to spend on a model, as anything cheaper will be shoddily made and not very reliable.
Riley RS1 electric scooter review: Design
The Riley RS1 stands out from the electric scooter crowd with a silver, black, and electric blue design. The RS1 is crafted from aluminium and is cleverly accented by a bright white logo on its steering column and model name and logo on the footboard. I think it's a great looking piece of kit.
For those who prefer a more understated look, Riley also offers a 'carbon' colourway, and, for those who want to completely blend into the environment, there is a camo option.
Personally, my pick is the silver model, which really stands out with the electric blue accents.
The RS1 is IP54-rated, so it can be used in the rain – just don't fully submerge it.
Riley claims the e-scooter can take a maximum load of 120kg before the performance starts to drop off.
Out of the box, not much needs doing to the Riley RS1; you will need a small hex key (supplied) to tighten the brake and you'll need to screw on the handlebars. It's a simple process and takes just a few minutes.
Once the scooter is set up, folding and unfolding is as easy as pie, its simple fixing ring and folding lever make it a 10-second job to collapse it for storage under a desk or on a train.
This allows you to easily carry it up stairs or through a train station, and at 13kg it's one of the lightest options on the market, although it's still important to remember that it will take some effort, depending on your strength level.
I found that because most of the weight is in the handle, it's easier to carry than rival scooters where the weight is in the board.
When folded the Riley RS1 is 1056 x 420 x 450mm, extending to 1056 x 420 x 1166mm when upright.
If you think the Riley RS1 looks familiar it's because it is. You'll find identical models badged as Elka, Turboant, Euphoria, and Decent, to name a few. We're not too bothered by that, as it we've tested a few variants of these e-scooters now and they've all been reasonably solid. It just means Riley hasn't spent time designing this like Pure Electric has done with the Pure Air Go.
Riley RS1 electric scooter review: Performance
The Riley RS1 is really, really easy to use. You just switch it on using the standby button on the control wraparound on the right-hand handlebar, kick-off manually, nudge the accelerator down and away you go.
All the while an LED display between the handlebars lets you know exactly what's going on; your speed in km/h, your battery level in 20% increments (though an idea of the remaining maximum distance possible would be better), and your speed setting.
The Riley RS1's brushless hub motor on the front wheel reaches a top speed of 25km/h (15.5 mph).
A short press on the function button – just above the throttle – toggles between three gears; Beginner, Standard and Pro, which controls what your top speed can reach and how fast you reach it.
In reality, I found myself wanting to be in Pro the entire time.
The indicator on the LED display that lets you know what gear you are in is very small and hard to see in direct sunlight. It's also represented as a tiny 'D' in white or red, which is pretty unintuitive.
Riley RS1 electric scooter specs
Max Speed: 15.5mph / 25km/h
Range: 15miles / 25km
Weight: 13kg
Motor: 350 W
Water resistance: IP54
Tyre: 10-inch, air-filled
Max Load: 120 kg
Removable battery: Yes
Speed settings: 3
Instead of keeping your finger wavering on the throttle the whole time the Riley RS1 has a useful cruise control option. It kicks in automatically once you've been going at the same speed for a few seconds, and is disengaged by any kind of touch to the throttle or brakes.
I find cruise control is really useful when gliding in a straight line, and really miss it when it's not on other electric scooters.
The brake on the RS1 is a disc brake rather than the more common rim brake found on street bikes, though there's little difference in how it looks or feels to use. Situated on the left-hand handlebar when squeezed it applies force on a rotor towards the middle of the rear wheel. It works well, with plenty of braking power to bring the scooter to a halt over a short distance. It's actually part of a clever energy recycling system; and works in collaboration with the E-ABS brake to put extra kinetic energy back into the battery.
The Riley RS1 feels stable going at speed. Its 10-inch pneumatic tires prove sturdy enough to go over kerbs and other small obstacles without any clunks, though going up hills or dirt roads significantly reduce its top speed. They still perform much better than the smaller 8-inch tyres found on some rivals.
Riley RS1 electric scooter review: Battery life
The Riley RS1's standard battery, located in the column, is rated at 6.4ah and is enough to fuel journeys of around 25km (15 miles).
I've found that's enough for short commutes and other short local trips, although the battery level indicator seems very unreliable – it would vary wildly during a trip – sometimes going up and sometimes going down.
Of course, the big plus point here is the removable battery. In practice is a removable battery that useful? For convenience, it's definitely handy to have a removable battery for easily recharging it at, say, a workstation in an office – instead of having to bring the RRS1 physically into the office (ditto at home).
It's also far more environmentally friendly to replace the battery when it's spent – or, more likely, to fit a newer, larger-capacity version – rather than junk the entire scooter.
The removable battery is also good when it comes to storing the electric scooter as you can store the battery at more battery-friendly temperatures while the main part of the electric scooter can be put in a cold shed or garage.
Riley RS1 electric scooter review: Other features
A double-tap of the function button switches on a bright LED headlight, which is positioned just below the handlebars. It's also got always-on taillights for being seen from behind. They flash when the brake is applied.
Unlike the slightly more expensive Pure Air Go, the Riley RS1 doesn't have a companion app. This isn't a deal-breaker for us, as we find these apps aren't all that useful, but it's something to note.
Riley RS1 electric scooter review: Verdict
The Riley RS1 is a great option for those looking for an affordable electric scooter. It offers a decent range of 15 miles and a high top speed of 15 mph. The killer feature here is the removable battery, which makes recharging a dream, and cruise control is also a really useful feature.
The RS1 is not perfect, however, as the battery in the handlebar gives it a top-heavy design, and the battery level indicator is pretty inaccurate.
Despite that, though, if you're looking for a cheap electric scooter – this is one of the best electric scooters you can buy.
Riley RS1 electric scooter review: Also consider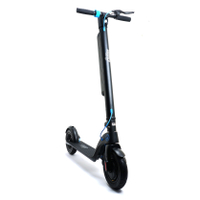 Riley RS2
If you want a cheap electric scooter with slightly more range then you should check out the more premium RS2 from Riley. It costs around £100 more and has a range of 28 miles / 45 km. It's slightly heavier at 15kg, but apart from that it's very similar to the RS1.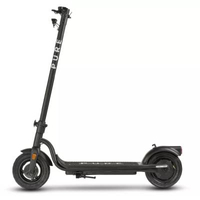 Pure Air Go
The Pure Air Go is the entry level model from my favourite electric scooter brand Pure Electric. It costs £349 and has a range of 12.4 miles / 20 km. It weights 16 kg, which is heaver than the RS1, but is a lot more robust and well designed.