The Garmin Instinct Solar is one of the best options for users wanting a Garmin watch without busting the bank. Users get a decent feature set that covers the core of what makes the brand tick, without needing to shell out an eye-watering price tag.
That statement has never been truer than right now – because it's currently better than half price in the Amazon Prime Day sale! Right now, you can pick up the Graphite version of the watch for £157 – that's a saving of £162.99!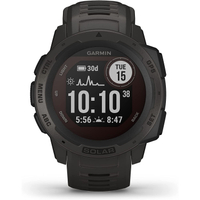 Garmin Instinct Solar: was £319.99, now £157 at Amazon
Save over £160 on the Garmin Instinct Solar in the Amazon Prime Day sale. That's over half price! Get access to the Garmin range without busting the bank for a top-spec model.
That's an incredible price for the tech on offer. Users will find a lot of the core specs expected of a Garmin product on offer here. Lets start with the battery life, which is arguably the jewel in the crown for the brand. The specs suggest up to 68 days of battery life is possible with the right settings, aided by the solar charging functionality. Take that, Apple Watch.
Elsewhere, you'll find a one-inch display with a two-window design. That allows certain information to be highlighted in a separate location. The display is a monochrome, MIP display. That means it should remain visible even in intense sunlight, or at acute angles. It's packed with 128 x 128 pixel resolution.
That's housed in a 45mm case made of fibre-reinforced polymer – fancy plastic, to you and I. The strap is 22mm and made of silicone.
In terms of fitness tracking, the Instinct is more capable than you may first think. You'll get options for a host of different workout styles, including classics like running, walking and cycling, right the way up to more niche activities like paddleboarding and XC Skiing.
That's aided by a vast array of sensors. If you can imagine it, chances are there's one inside of this watch. That includes GPS, heart rate monitoring, accelerometer, thermometer, blood oxygen saturation monitoring and lots more.
When you consider everything that's jammed in there, the Garmin Instinct Solar was always a pretty good value offering. Now that it's over half price, it's positively insane! The sheer amount of tech on offer for less than £200 is astounding. Couple that with the brilliant battery life and insane ruggedness – the watch is Mil-Spec 810 compliant, naturally – and this could just be the last smartwatch you ever need.