There comes a point with gaming laptops where you can pretty much run anything at maximum specs. The ASUS ROG Strix SCAR 16 is past that point. This is a machine that belies its RGB lighting and is in fact a serious gaming juggernaut. The price drop is also pretty serious too, a regular £3,499 price has plunged to £3,003.
In my review of this machine, I was full of praise for its Intel i9-powered performance 32GB of RAM and impressive GeForce RTX 4080 GPU. The 240Hz display is a joy to look at as well, offering soaring framerates for your favourite games.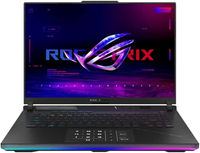 Asus ROG Strix Scar 16: was £3499 now £3003 on Amazon
Save 14% – This is a top-performing gaming monster that offers pure unadulterated power. With 32GB of RAM, a 13th generation Intel i9 processor and a GeForce RTX 4080 GPU this laptop can compete with pretty much anything.

It might sound trite but my main memory from this machine aside from the almighty performance was the keyboard. With a surprisingly minimalist design, it is the best keyboard I've ever used, perfect when a mis-input could cost you the game.
My main concern with this machine was the volume it could reach, but if that's not a problem then you'll be hard-pressed to find a better-performing laptop setup, especially at this new price.
If you've got an Xbox Game Pass subscription on PC, you'll definitely appreciate the whopping 2 TB of SSD storage to swap between games at high speed. Battery life, so often an Achilles heel of gaming laptops is also impressive. 2 hours of intense gaming without being plugged in is a strong showing while 5 hours of general use is also not to go unnoticed.