Christmas is just around the corner and time is running out to pick up gifts for your loved ones. Luckily, it's not too late to save money on your last-minute purchases - deals are rife across the web right now.
If you're hunting for a cool gift to give to a music lover then this deal on the Marshall Major IV headphones is a winner. They're the cheapest they've ever been right now, with a huge 38% discount at Amazon taking them down to less than £80.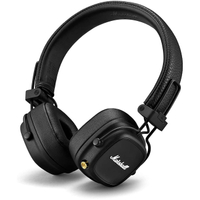 Marshall Major IV: was £129.99, now £79.99 at Amazon
Get £50 off the Marshall Major IV at Amazon today. A pair of comfortable on-ear headphones, the design is really cool and they sound great too.
Why you should buy the Marshall Major IV
A big gripe I have with a lot of over and on-ear headphones is that quite frankly, they look a little silly when you put them on, more often than not they're bulky and over the top. Not these though. The Marshall Major IV are really cool. But then Marshall devices always are.
Inspired by the rock n roll era when the audio company first began, these headphones are pretty iconic. You get that classic textured vinyl design that we know and love with the famous Marshall script across each ear cup, and there's a small golden control knob on the side to control them.
Of course, it's not all about looks, these manage to deliver in just about every other area as well, including the sound quality. In the Marshall Major IV review, we called them 'a classic case of more than meets the eye for the simple fact they aren't tuned to suit one or two genres' going on to say that 'these are crowd-pleaser headphones made for anyone willing to listen.'
What's more, is the array of features, these boast more than 80 hours of battery life (yep you read that right), wireless charging and a 3.5mm audio port to listen to music through a wired connection when the battery does run out.