When it comes to the best Black Friday sales, there's no doubt that people are especially keen on seeking out the best headphones – including, of course, the best active noise-cancelling earbuds. Which is exactly what we've got here: the Sony WF-1000XM5, the company's current top-tier ANC earbuds, have suddenly dropped to their lowest-ever price.
This is part of Sony's official early Black Friday sales promotion, kicking off from today (15 November) and continuing across the sales period. The discount isn't the biggest I've ever seen, but having checked third-party price-tracking site CamelCamelCamel, these earbuds are way down on their previous lowest.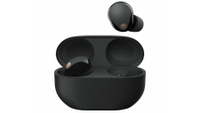 Sony WF-1000XM5: was £259, now £219 on Amazon
With a better-than-15% discount slashed off the XM5 in-ears you'll have never seen these active noise-cancelling 'buds on the shelf for a better price. Indeed, even pre-owned pairs on Amazon are pricier than this sale price. Which makes for very good value indeed.
That said, however, it's worth considering whether you need the very latest Sony ANC earbuds or not. As T3's review revealed about the XM5, their XM4 predecessor was so impressive that, in some ways, the newer model didn't add all that much. Which is an interesting way of looking at it when you consider price: as the earlier Sony WF-1000XM4 are vastly cheaper at just £152 on Amazon right now.
Sometimes 'newest' doesn't necessarily equal 'best' when money comes into the equation, but at least here you've got two very good Black Friday deal options. Save more and go with the generation-old WF-1000XM4, or plump for the newer WF-1000XM5 but still nab them for their lowest-ever price. It's a win-win really, whichever preference you have.