My favourite laptop ever is the M1 MacBook Air. I've used one ever since it launched, and have continually been impressed by the performance on offer.
The M1 chip – the first of Apple's in-house silicon range – offers incredible horsepower for day-to-day tasks. That pushes the Air way beyond what you'd expect of a lightweight laptop.
Right now, you can save $250 on one, in an Amazon Prime Day rival sale. Pick one up at Best Buy for $749 – and enjoy the goodness of Apple Silicon for less.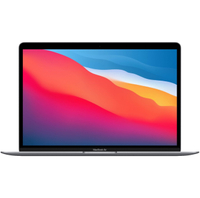 M1 MacBook Air: was $999.99, now $749.99 at Best Buy
Save $250 on the M1 MacBook Air. Enjoy the power and performance of Apple's in-house silicon chips, without breaking the bank. Plus, you'll get an ergonomic case shape, and a fanless design for silent operation.
So, why do I think the M1 Air is such a good deal? Well, it really does punch above its weight when it comes to value-for-money. The M1 chip is a total powerhouse, which is going to be more than enough for most users.
I've used mine for a stack of power-hungry tasks. Photo and video editing, music production, gaming – all were manageable on the Air without it really breaking a sweat. If most of your work happens in a Word document or a web browser, you'll be just fine.
It's the oldest model in the current MacBook line-up, but don't let that put you off. The revisions with M2 and M3 chips have been significant, but you're still getting a processor which is more capable than a lot of other devices.
You'll also get a totally silent laptop. There's no fan inside the M1 MacBook Air, meaning you'll never have to contend with a laptop which sounds like it's about to take off when under load. Don't panic about overheating either. Like I say, I've had mine for a few years and put it thoroughly through its paces – lukewarm is about as far as I've ever got it to go.
It's also the last MacBook with the wedge shaped bottom portion. That's a much more comfortable design than the newer flat surface, and it really does make a difference in use.
If you're liking the look of this deal, don't hang around. This flash sale ends tomorrow, meaning you won't have too long to snag it! Plus, with rumours of a slew of new MacBook models on the way, it's not clear if deals like this will still be around come Black Friday.