When it comes to the best MacBooks the one I recommend for most people is the Air. It's just the perfect portable machine for work and play. And while I'm still using the older M1 model from 2020, the latest MacBook Air M2 has just entered a flash sale period for this weekend only via the reputed store BHPhotoVideo.
The deal, which sees the MacBook Air drop to its lowest-ever price to date, just $929, is available from now until the end of this weekend, thru Monday 23 October. It's a great price, undercutting even Amazon's extra $170 asking price on top of that.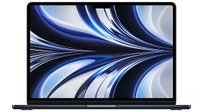 MacBook Air M2: was $1,299, now $929 at BHPhotoVideo
New York's premier store has taken a big bite out of Apple's latest MacBook Air, the entry model with 8GB RAM and 256GB storage. It's a time-limited deal that you won't find anywhere else, Apple or Amazon included, and makes for the best buy that you'll find on this machine right now.
Indeed, this deal betters what was seen from from the second-of-the-year Amazon Prime Day, which took place earlier this month, for best-of-best pricing. I've taken a look on the price-tracking site CamelCamelCamel, which also verifies the MacBook Air M2 hasn't dropped below $1,049 (on Amazon at least) before now.
If you're looking to spend even less than the older-generation MacBook Air M1 is also on sale, albeit from Best Buy, where you can pick up that machine for a bargain $799 brand new. Walmart is also selling refurbished models for even less.
Keep in mind the M1 model is the older version, so the without-notch display generation, meaning the screen bezel is larger overall. If you don't mind that and the older processor then, well, here's a great chance to save yourself a couple of hundred dollars. If it was my money, however, I'd be looking to future-proof that bit longer and plump for the newer Air M2 model. If you've got the cash and can be quick enough, as the deal ends after this weekend...