Tis the season for big action camera savings! Insta360, manufacturer of some of the best action cameras, launched their Spring Sale, offering up to £100/$110 off select products. There are deals on the diddly Insta360 Go 2, the brilliant Insta360 One X2, and you can even get the Insta360 Link for cheaper. If you need a new 360º action cam, now is the time to buy one.
Save up to £100/$110 on action cams, webcams, and more at Insta360
The deals run from 6 April until 9 April (or till stocks last). For more offers, check out T3's best cheap action camera guide or our best cheap GoPro deals roundup. Speaking of inexpensive GoPros: the brand has its own sale going on, in case you're interested. Plus, you might want to know that DJI has an Easter Sale, too.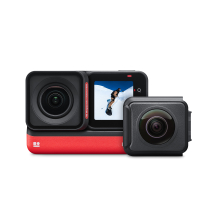 Insta360 ONE RS Twin Edition: was £500, now £400 at Insta360
The Insta360 One RS' flexible modular design is loads of fun. The 4K boost lens delivers excellent quality video and, alongside the existing 360 lens module, offers a well-rounded action camera package that delivers on all fronts. Now you can own this amazing piece of kit for £100 – until stocks last!
In our Insta360 One RS Twin Edition review, we said this bad boy offers an excellent alternative to the fan-favourite GoPro HERO10 Black thanks to the option to switch lenses on a whim and excellent image quality. "The Insta360 One RS is a quality act overall, and a fun one at that – which might just be more important in the end," we concluded. Other offers in the Insta360 Spring Sale are:
Not included in the sale, but you can read more about the company's new AI-powered smartphone gimbal here: Insta360 Flow hands-on review. Or, if you want to know more about what we call an "all-round winner of a 360° action camera," check out our full Insta360 X3 review.