One of the best ways to improve your home security is to invest in one of the best security cameras. These give you eyes on any area of your home, to keep watch even when you aren't nearby.
If you've got a larger home, you'll need a few cameras to keep track of every location. And that's exactly what you get with the Blink Outdoor eight-camera pack. That should be more than enough to cover every location.
Right now, you can pick up that pack for an insanely good price. While it usually retails for $629.98, you can get it for just $249.99 right now on Amazon! That's a 60% saving, and means each camera costs just $31.25.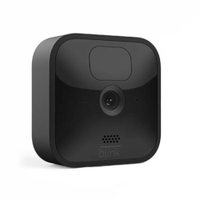 Blink Outdoor camera 8-pack: was $629.98, now $249.99 at Amazon
The Blink Outdoor camera provides a cost-effective way to keep an eye on an area of your home. With the eight-pack on sale here, you can multiply that in different areas for a complete overview of your home. And with a price drop this insane, there has never been a better time to buy.
That's a brilliant deal. With eight cameras on offer, you should be able to comfortably see every nook and cranny of your home. We reviewed the sibling to this camera – the Blink Mini – and were impressed by how it performed.
The Blink Outdoor packs in an even more impressive spec sheet. As the name suggests, it's good to be used externally, as well as inside the home. The two included batteries will keep it powered for up to two years, too. That means you won't have to faff around with changing them over every few weeks.
You'll get a HD video feed whether it's day or night. That's thanks to 1080p camera, with infrared night vision. Pair it up to the app, and the camera will even act as a motion sensor, letting you know when something moves in front of it.
You can even set active and non-active zones in the app. For example, if your camera faces your front door, but also captures a section of the sidewalk, you can set that as a non-active zone. That means you'll be notified if someone comes to your door, but not every time someone simply walks past your house.
The cameras also feature two-way audio. That means you can interact with people near the camera, via the app on your phone. That's great for if you're not in and want to let someone know.
These units are a great option at the regular price. Throw in this positively insane deal they're currently being sold with, and it's a real no brainer. If you've been putting off getting some cameras for your house, this is likely to be the best deal you'll see in a while. There's no guarantee it will stick around for long, though, so act fast!