I'll be truthful with you guys, I can't really cook. That's why buying an air fryer has changed my life. I'm very much a 'shove it in the oven for half an hour' kind of chef, and my Tower T17067 Vortx has dramatically lessened the time I spend waiting for my food to cook. At £44.99 on Amazon, I don't think you can go wrong with it.
Air fryers use a lot less oil than conventional ovens too, making them a healthier choice than a traditional cooker, but if you're looking to indulge with some chips for example then you'll struggle to beat the fluffy texture of an air fryer. Like I said, I'm no Gordon Ramsay but even I have no problem using this machine, simply chuck your food in, turn it on and set the temperature and timer. It even automatically turns off (if you set the timer) so there's no risk of overcooking or leaving your fryer on all day.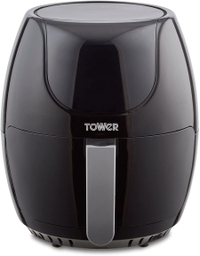 Tower T17067 Vortx Family Size: was £69.99 now £44.99
Cooking is made simple with an air fryer, and this model is remarkably easy to use. If you want fluffy chips or crispy chicken this is a great model with a spacious 4L basket.
It's not just chips that I use my air fryer for, I also regularly do chicken, sausages and even veggies in the Tower. Although I normally only cook for myself, a 4L capacity basket should be enough for most family meals too.

Even if you're not ready to say goodbye to the oven just yet, an air fryer makes a lot of sense as a secondary cooker. If you need one ingredient or element cooked at a different temperature to the rest of your meal, simply use the air fryer and set and forget. No one likes spending their weekend having to scrub the oven, but there's no such problem with an air fryer. The minuscule amount of oil and grease means you just need to quickly wash the basket and then you're ready to go again.
Honestly, I almost feel sorry for my oven. It must be feeling lonely, but when you have an air fryer that can also roast, grill and bake, there's little need to use it. If you're still not convinced check out our guide to the best air fryers, which currently has a Tower model at the top of the list.