I have a confession to make guys, I think I might have weird ears. Whenever I try using objectively excellent headphones like the AirPods Pro 2, I just can't get them to stay in my ears. Any headphones with an 'in-ear' design seem to effectively bounce straight back out my ears. Maybe I'm just being phobic of shoving the tips in ear-holes but give me an old-school 'half-in' headphone any day.
Luckily for those like me, the Nothing Ear (Stick) are only £69 on Amazon. Not only do the Nothing Ear (Stick) pass my fit test, but they are also some of the best cheap headphones on the market, and after owning them for almost a year, I agree.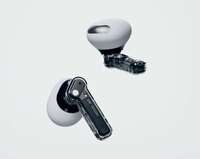 Nothing Ear (Stick): was £99 now £69 at Amazon
Sound meets style with the Nothing Ear (Stick). Featuring a unique lipstick style case and Nothing's signature minimalist look these headphones ooze cool. Use the accompanying EQ app to find your perfect sound or just enjoy the super lightweight buds that you forget are even in your ears.
In a world of similar-looking headphones, Nothing has made a conscious decision to stand out with its minimalist take similar to the Nothing Phone. You can see exposed circuit boards aplenty, while the cylindrical case is similar to a roll of mints, and makes for an excellent fidget toy.
Of course, this would all be a moot point if the Ear (Stick) performed horribly but luckily they have a great sound profile and an impressive 29 hours of battery life (between buds and case). In our four-star review we described them as a "worthy AirPods alternative that won't cost you the earth." and that's a pretty great sell on its own.
In a world where most of the best headphones feature the more invasive tip design, It's a blessing that there are still some high-performing half-in earbuds too. Maybe one day they'll become the norm again.