The promotional image above was enough to suck me into Razer's lure, sure, but once you dig into the specification of the Raptor 27-inch gaming monitor you'll be smitten. Especially as this Black Friday deal dumps the price down by hundreds of pounds.
Razer Raptor 27 gaming monitor: was £899, now £549 on Microsoft Store
The Raptor 27 is the first ever gaming monitor to be THX certified, offers Nvidia G-Sync and AMD Freesync for perfectly matched frames-per-second fluidity, and delivers a 1440p resolution at 165Hz. That it's on the Microsoft Store tells you something: this would be a great Xbox or PC monitor for your gaming endeavours.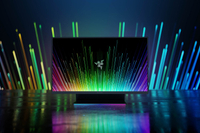 Razer Raptor 27: was £899, now £549 at Microsoft Store
Shopping for one of the best gaming monitors on the market? If you can forego 4K resolution then this 1440p 165Hz option is a brilliantly stylish and capable package that's a great price in the sales.
As you can see from the shopping widget below, Microsoft is really trailblazing with this deal: the £549 asking price is £350 less than you'll pay at Razer's own store, and it's £250 less than Amazon is asking too. You won't find it at a better price right now.
Indeed, Microsoft's Black Friday sales have been pretty eye-opening: my favourite so far was the Xbox Series S price drop to £189 (which is almost 25% off), which made it into my 10 Best Black Friday Deals Actually Worth Buying featurette.