If you're serious about your gaming and are looking to buy the entry-level current-gen Xbox Series S console to sit in front of your ultimate gaming TV in your living room, then Amazon's 2023 Prime Day sales promotion has just put the console back under the £150 mark. The previous best I recall was Amazon's Spring Sale, when it cost a third more!
View the Xbox Series S deal at Amazon
Ok, so it's the Xbox Series S sold as 'certified refurbished', but you still get all the warranty and same assurance as you would with a brand new console. And this is a great entry point into Microsoft's gaming world, especially with £100 off the list price.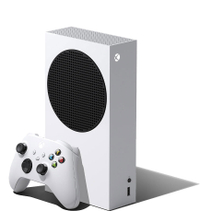 Xbox Series S [refurbished]: was £249.99, now £149.99 at Amazon
As said in T3.com's Series S review: "Stylish, affordable, easy to set up, and taps into the very slick Xbox ecosystem with Xbox Game Pass Ultimate". Add today's most popular streaming services and it acts as a digital-only entertainment box that will no doubt appeal to gamers and beyond. This is a great price for all of that!
This console is a gamer's dream, with loads of top titles and super graphics to boot. It's not the top-tier Xbox Series X console, of course, but for this kind of asking price I'm certainly not complaining. Indeed, I'm mighty tempted to buy one myself for a second screen in the house.
If you're after an all-digital access point to Xbox for Game Pass Ultimate and Xbox All Access, then the Series S is an ideal way to jump on board the Microsoft train. And in these troubled and financially unstable times, this price cut is simply brilliant news for gamers.
It's just one of the deals that the T3 team has highlighted across our Best Prime Day Deals feature, which also includes a separate Best Prime Day Gaming Deals if you're seeking out accessories such as games, headsets, storage and more. You've only got until the end of Wednesday 12th July before the sales doors slam shut, so now's the time to shop.