When it comes to the best headphone DACs (that's digital-to-analogue converter, for the uninitiated) there's one British champion that towers above all others: Chord.
And in a very British-only deal – except you needn't queue up for this one – the company's award-winning DAC, the Chord Mojo 2, has a stonking £100 off in this flash summer sale.
That takes the usual £495 asking price down to a much more appealing £395, so if you're looking to buy some of the best wired headphones and want an awesome headphone amp/DAC accompaniment then this is a stellar option.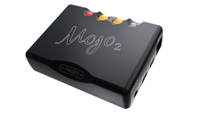 As we said in our Chord Mojo 2 review: "If you're interested in turning your computer (or your tablet, or smartphone) into a source of genuinely impressive-sounding music when paired with great headphones, well, don't look any further. It's perfect for pairing with hi-res/lossless tiers from streaming services, or for making the most of your own hi-res collection." Can't say better than that, eh?
Except there's more! It's a double-whammy deal, with Chord also chopping £100 off the Chord Mojo 2's partner in crime, the Chord Poly, which clips onto the DAC and acts as a streaming model. Talk about the ultimate upgrade.
While the Mojo 2 isn't as readily portable as, say, a USB DAC, it's still a great-looking and pocket-sized option that will suit plenty of buyers looking for a high-end audio solution. There's no end date on this deal, but I suspect it'll be a first come, first served while stocks last, so you best get shopping...